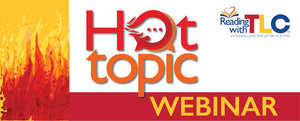 Recording of Elicitation Strategies for Speech Sound Disorders Webinar
Presenter: Amy Graham, MS, CCC-SLP
This is a per person fee

URGENT FINAL REGISTRATION STEP:  After purchasing this webinar, you will receive an email which will contain an important digital PDF that you need to download. (PLEASE CHECK YOUR SPAM FOLDER FOR ALL CORRESPONDENCE RELATED TO THIS TRAINING.)  This PDF contains the link to your recording. You will have this recording for one month. 
GROUP RATES: If you are interested in purchasing this webinar for 10 or more members of your school, district, or company, you may click on the option to pay $450 for an unlimited number of attendees to watch live or view the recording when it's convenient for you for one month.
Description:
Eliciting target sounds among children with speech sound disorders can be challenging. Once an appropriate approach to intervention is chosen given the nature of a child's specific speech deficit, frustration can arise as non-stimulable sounds are targeted. This presentation will focus on a number of specific elicitation techniques, including visual, verbal, tactile, semantic, cognitive, and kinesthetic cues, to improve a child's stimulability and practical strategies for implementation during therapy. The presenter will go into detail to offer ideas about how to elicit some of the more challenging speech sounds and provide case examples, using videos to help explain and demonstrate helpful elicitation strategies. 
This webinar was designed for speech language pathologists, however other educators and parents could also benefit from many of the strategies being presented. 
Learner Outcomes:
1. Identify at least 3 new elicitation techniques for target phonemes
2. Describe how multi-sensory cueing can benefit children with speech sound disorders
3. Discuss how implementation may differ among children with different speech sound disorders


Presenter Bio:
Amy Graham is a speech language pathologist and owner of Graham Speech Therapy, a private practice in Colorado Springs that specializes in pediatric speech sound disorders. She received both her bachelor's and master's degrees in Communicative Disorders from California State University, Fullerton, and has been an SLP for over 20 years. Amy is the creator of the Graham Speech Therapy Oral-Facial Exam and the Bjorem Speech Sound Cues Decks for Lateralization and Phonology Targets for Cycles, has been a guest on numerous SLP podcasts, and is listed on the Apraxia Kids Directory of SLPs with expertise in Apraxia. She has a particular interest in supporting and equipping SLPs to help them provide evidence-based treatment by posting frequent therapy videos and practical therapy tips on social media. 
CREDITS: Whether you watch live or view the recording, this training offers 2 cont. ed. hours for all, and Certificate Maintenance Hours (CMHs) for Speech Language Pathologists. ASHA accepts CMHs towards the 30 hours needed for re-certification. 
Purchase orders are accepted at check out on the order summary page or they may be faxed to 781-812-2441, emailed to info@readingwithtlc.com, or mailed to Reading with TLC, 775 Pleasant Street, Suite 6, Weymouth, MA 02189. 
ATTENDEES: If you are paying for and registering someone else or registering a group of people, please enter the attendee names and emails in the PO section on the order summary page.
CANCELLATION POLICY: No Cancellation
---
We Also Recommend