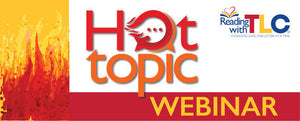 Recording of Yes, Students with Autism Can Learn to Decode Webinar
Presenter: 

Kerry Quinney, Ph.D
This is a per person fee
URGENT FINAL REGISTRATION STEP:  After purchasing this webinar, you will receive an email which will contain an important digital PDF that you need to download. (PLEASE CHECK YOUR SPAM FOLDER FOR ALL CORRESPONDENCE RELATED TO THIS TRAINING.)  This PDF contains the link to your recording. You will have this recording for one month. 
GROUP RATES: If you are interested in purchasing this webinar for 10 or more members of your school, district, or company, you may click on the option to pay $450 for an unlimited number of attendees to watch live or view the recording when it's convenient for you for one month.
Description:
Educators often focus on teaching functional reading and memorizing key words to students with autism spectrum disorder. Memorizing words is important, however students with autism
are
 capable of learning to decode to read. Reading is a functional skill and necessary in school and society. Reading deficits pose grave limitations to inclusion in society (Sermier Dessemontet & Francoise de Chambrier, 2015), therefore, all students with autism should be taught to decode.
Educators often struggle teaching these students due to maladaptive behavior and deficits in communication and social emotional skills. Bolstering social emotional skills is especially important since Covid. This training will help educators better understand how to work on literacy skills while simultaneously improving learning-to-learn behavior. Educators will also learn how to concurrently improve speech and communication skills using the multisensory Lively Letters program. Strategies to differentiate skills to best meet individual student's needs will also be discussed. This training is geared toward elementary-aged students, but can be applied to all grade-levels.
This training will:
·         Review current reading research and ASD
·         Incorporate strategies to decrease maladaptive behaviors while teaching reading
·         Explain how to bolster communication during reading instruction
·         Provide strategies to improve social emotional skills
·         Offer examples of students using the Lively Letters program
About the Presenter: 
Kerry Quinney, Ph.D. is an autism advocate who works as a primary autism educator in Las Vegas, Nevada. She also runs a nonprofit organization for children with autism. Kerry is passionate about helping others successfully teach students with ASD and she strives for educators to understand that autistic students can learn to decode and not just memorize sight words. She believes in setting high expectations and goals for each student and she is passionate about working on literacy, while managing behavior. Kerry holds a Bachelor's Degree in Biology, a Master's Degree in Education/Special Education and a Ph.D. in Education/Special Education. Her Dissertation topic to earn her Ph.D. was titled, The Effects of Teaching Phonemic Awareness and Phonics to Preschool-Aged Children with Autism Spectrum Disorder. She has successfully been using the Lively Letters program with her students for more than 10 years. She has taught students with a variety of abilities and noted significant growth each year with each group of students. She has a wonderful husband, two children, three stepchildren, and many cute farm animals.
CREDITS: This training offers 2. cont. ed. hours for all, and Certificate Maintenance Hours (CMHs) for Speech Language Pathologists. ASHA accepts CMHs towards the 30 hours needed for re-certification. 
Purchase orders
 are accepted at check out on the order summary page or they may be faxed to 781-812-2441, emailed to info@readingwithtlc.com, or mailed to Reading with TLC, 775 Pleasant Street, Suite 6, Weymouth, MA 02189. 
ATTENDEES: If you are paying for and registering someone else or registering a group of people, please enter the attendee names and emails in the PO section on the order summary page.

CANCELLATION POLICY: No cancellations.  
---
We Also Recommend