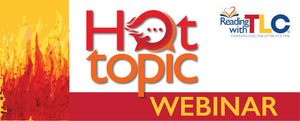 Recording of Jessie L. Ginsburg, M.S., CCC-SLP: What Lies Beneath: Why We Should Tune In to Challenging Behaviors Instead of Time Out Webinar
Presenter:

Jessie L. Ginsburg, M.S., CCC-SLP
This is a per person fee
GROUP RATES: If you are interested in purchasing this webinar for 10 or more members of your school, district, or company, you may click on the option to pay $450 for an unlimited number of attendees to watch live or view the recording when it's convenient for you for one month.
URGENT FINAL REGISTRATION STEP:  After purchasing this webinar, you will receive an email which will contain an important digital PDF that you need to download. (Check your spam folder.) This PDF contains the link to your recording.
Description:
When we see challenging behaviors in children, we are so quick to think how can I get rid of this behavior? However, we should be asking, what is this behavior telling us about the child? The behaviors are the tip of the iceberg - they are what we see on the surface and typically what we focus on. When in reality, it's much more important for us to look at what lies beneath. What is this behavior telling us about the child's sensory processing, self-regulation, and emotional state? And based on what we know about the child's social, emotional, and cognitive skills, how can we help the child regulate, relate, and think logically?
In this webinar you will learn how to use the iceberg analogy as a tool for assessing challenging behaviors, and then how to use a relationships-based approach to improve a child's regulation, engagement, and communication. Don't let behaviors work against you - make them work for you. Behaviors bring us valuable insight into a child's mind and body. We just have to learn how to interpret them. It is only then that we can tune in to the child's real needs and build deeper, more meaningful connections.
Presenter Bio:
Jessie Ginsburg is a speech-language pathologist and CEO of Pediatric Therapy Playhouse, a multidisciplinary clinic in Los Angeles. She is an internationally-known autism specialist and the creator of ASD from the Inside Out, an online course that teaches speech-language pathologists innovative ways to assess and treat young children on the autism spectrum. She is a national presenter on autism, contributor to the American Speech Language Hearing Association magazine, and a board member of the California Speech Language Hearing Association.
CREDITS: Whether you watch live or view the recording, this training offers 2 cont. ed. hours for all, and Certificate Maintenance Hours (CMHs) for Speech Language Pathologists. ASHA accepts CMHs towards the 30 hours needed for re-certification. 
Purchase orders are accepted at check out on the order summary page or they may be faxed to 781-812-2441, emailed to info@readingwithtlc.com, or mailed to Reading with TLC, 775 Pleasant Street, Suite 6, Weymouth, MA 02189. 
ATTENDEES: If you are paying for and registering someone else or registering a group of people, please enter the attendee names and emails in the PO section on the order summary page.
CANCELLATION POLICY: No Refunds.
---
We Also Recommend