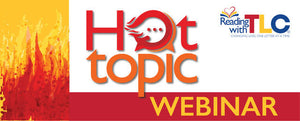 Recording of Maria Toth: Treating Children with Autism Spectrum Disorder Online: Effective Strategies and Tips
Presented by Maria Toth, MS, CCC- SLP
This is a per person fee
GROUP RATES: If you are interested in purchasing this webinar for 10 or more members of your school, district, or company, you may click on the option to pay $450 for an unlimited number of attendees to watch live or view the recording when it's convenient for you for one month.
After purchasing this webinar, you will receive an email which will contain an important digital PDF with the link to your recording.(Check your spam folder.)  You will have this recording for one month.
Description:
Join seasoned speech language pathologist, Maria Toth, MS, CCC-SLP, as she discusses practical ways to help you more efficiently assess and treat children on the Autism Spectrum and related disorders. She will discuss tips to assist therapists and other educational professionals to identify the "if"  and the "when" these children should be assessed or reassessed. In this unique webinar, she will primarily share  strategies to help this population while servicing  them online due to the latest shift in schools and in private practices to the use of telepractice during the COVID-19 pandemic. This will include important information on getting set up to provide the online services, tips of scheduling, information about HIPAA-compliant Telehealth platforms, and  recommended therapy strategies and material resources. Maria will share her strategies for keeping children engaged, including special techniques for the use of  reinforcers. She will also discuss team meetings, report writing, and documentation. Case studies with pediatrics will be shared with participants as well.
Overall, telehealth (delivering services online) has proven to be an effective method of servicing clients of all ages. It allows clinicians to service more clients and overcome time, distance, and scheduling restrictions. This timely webinar will provide the necessary information for implementing this critical type of service delivery. Whether watching live or choosing just to watch the recording, this is a "must-see" webinar for those working with students with ASD. For those coming live, bring your questions, as the final portion of the webinar will include a Q&A session with the presenter.
Presenter Bio:
Maria Toth is a licensed SLP specializing in treating children on the Autism Spectrum as well as those with Apraxia of Speech (CAS), Speech Delay, and Language Disorders. She has been a certified, licensed practitioner for almost 20 years in the state of Florida and is an active member of ASHA and several of ASHA's Special Interest Divisions.  She completed her education at the University of Florida, cum laude, with a major in Speech Language Pathology and Audiology.  She then went on to earn her Master of Science Degree in the field at Florida Atlantic University.  Maria has worked in a variety of settings, including schools, outpatient facilities, homes, and private practice. In 2006, she founded Toth Speech Services, where the focus is on natural environment therapy, parent and caregiver education, and collaboration with other team members. She spends part of her time supervising new clinicians and speech assistants. When Ms. Toth isn't busy helping others, she is spending time with her three children, working out, or enjoying nature activities.  
CREDITS: Whether you watch live or view the recording, this training offers 2 cont. ed. hours for all, and Certificate Maintenance Hours (CMHs) for Speech Language Pathologists. ASHA accepts CMHs towards the 30 hours needed for re-certification. 
Purchase orders are accepted at check out on the order summary page or they may be faxed to 781-812-2441, emailed to info@readingwithtlc.com, or mailed to Reading with TLC, 775 Pleasant Street, Suite 6, Weymouth, MA 02189. 
ATTENDEES: If you are paying for and registering someone else or registering a group of people, please enter the attendee names and emails in the "notes" section on the order summary page.
CANCELLATION POLICY: No cancellations. 
---
We Also Recommend