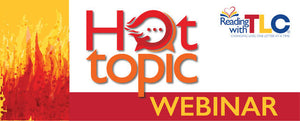 Recording of Tiffany P. Hogan: The Language Basis of Dyslexia: Recent Research Findings and Educational Strategies Webinar
Recording of The Language Basis of Dyslexia: Recent Research Findings and Educational Strategies Webinar
Presented by Tiffany P. Hogan, PhD, CCC-SLP
Please note: This is a per person fee. 
URGENT FINAL REGISTRATION STEP:  After purchasing this webinar, you will receive an email which will contain an important digital PDF that you need to download. (PLEASE CHECK YOUR SPAM FOLDER FOR ALL CORRESPONDENCE RELATED TO THIS TRAINING.)  This PDF contains the link to your recording. You will have this recording for one month. 
GROUP RATES: If you are interested in purchasing this webinar for 10 or more members of your school, district, or company, you may click on the option to pay $450 for an unlimited number of attendees to watch live or view the recording when it's convenient for you for one month.
Please note: After adding this webinar to your cart and checking out, you will receive an email which will contain an important digital PDF that you need to download. This PDF will contain your link to this recording.

Purchase orders are accepted at check out or they may be faxed to 781-812-2441, emailed to info@readingwithtlc.com, or mailed to Reading with TLC, 775 Pleasant Street, Suite 6, Weymouth, MA 02189. 
ATTENDEES: If you are paying for someone else or a group of people, please enter the attendee names and emails in the "notes" section upon checkout.
Description:
In this exciting, new webinar Dr. Hogan will share recent research findings on the language basis of dyslexia with a focus on educational implications. Topics will include the language basis of dyslexia, and how dyslexia relates to childhood speech and language disorders. Dr. Hogan will also share critical information on working memory and word learning in children with dyslexia. Attend this session to become more familiar with some of the most current findings in the area of dyslexia. Walk away better equipped to plan testing, screening, and instruction for students at risk for, or already diagnosed with, dyslexia. As an added bonus, receive strategies for providing the right kinds of professional development training for colleagues in this area. This session is appropriate for those working or connected with individuals of any age, who are interested in furthering their knowledge in the area of dyslexia. This includes educators, clinicians, administrators, advocates, and parents alike.
The Language Basis of Dyslexia: Dyslexia is a language-learning disorder but what does that mean in terms of early speech and language development? Dr. Hogan will overview the history of the 'dyslexia' diagnosis from its inception including the many terms used and why it is often erroneously considered a medical diagnosis. Educational implications and strategies will include impacts from dyslexia screening laws and how to provide training to other professionals on the language basis of dyslexia. 
How Dyslexia relates to Childhood Speech and Language Disorders: Do all children with dyslexia have an early speech and/or language disorder? Dr. Hogan will provide longitudinal data on speech and language development from as early as 15 months old for children who were later diagnosed with dyslexia in 2nd grade. Early signs of dyslexia are present in speech and language development but some are subtle and many children with dyslexia do not have an early diagnosis of speech and language disorder. Educational implications and strategies will include selecting an evidence-based measure to determine early risk for dyslexia and how to differentiate dyslexia from a developmental language disorder and speech sound disorder. 
Working Memory and Word Learning in Children with Dyslexia: What are the impacts of dyslexia beyond word reading deficits? Dr. Hogan will provide recent findings from a large National Institutes of Health study of working memory and word learning in children with dyslexia. These children have deficits beyond word reading including difficulty recalling sounds in working memory which affects listening, remembering, and word learning. Educational implications and strategies will include how to modify instruction to improve working memory and word learning. 
Dr. Hogan will draw on years of clinical experience and research studies to provide the latest findings on the language basis of dyslexia with concrete solutions to improve the early identification and intervention for children with dyslexia.
Presenter Bio: Tiffany P. Hogan, PhD, CCC-SLP
Tiffany P. Hogan is Director of the Speech and Language (SAIL) Literacy
Lab, and Professor in the Department of Communication Sciences and Disorders at MGH Institute. Dr. Hogan studies the genetic, neurologic, and behavioral links between oral and written language development, with a focus on co-morbid speech, language and literacy disorders. Her research is funded by the National Institutes of Health's National Institute on Deafness and Other Communication Disorders and the Department of Education's Institute of Education Sciences. Dr. Hogan provides doctoral research training for students in the PhD in Rehabilitation Services program at the Institute and undergraduate and graduate students from numerous fields of study. She teaches graduate courses in literacy assessment and intervention, leading literacy change, and professional issues in academia. She is committed to implementation science and translating research to practice. Dr. Hogan serves on national committees of the American Speech-Language-Hearing Association, is an elected board member of the Society for the Scientific Study of Reading, and is chairing the pre- conference symposium for the 2019 IDA annual convention.  She is also the creator of the podcast, See, Hear Speak, in which she in which she shares interesting conversations with noted experts in the field. Clinicians, educators, scholars, students, and parents love these conversations as they involve topics that we are all passionate about – reading, language, and speech – and helping those who struggle to develop those critical skills.
Check out Dr. Hogan's podcast and articles here!  www.seehearspeakpodcast.com  
CREDITS: This training offers 2 cont. ed. hours for all, and Certificate Maintenance Hours (CMHs) for Speech Language Pathologists. ASHA accepts CMHs towards the 30 hours needed for re-certification. 
CANCELLATION POLICY:  No cancellations. 
---
We Also Recommend