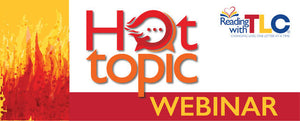 FREE Recording of William Van Cleave: Syntax Matters! Developing Sentence-Level Skills for Reading & Writing Webinar


Presenter:
William Van Cleave
URGENT FINAL REGISTRATION STEP:  After purchasing this webinar, you will receive an email which will contain an email labeled "your downloads" that will contain the link to your recording. digital PDF that you need to download.
Description:
Participants in this engaging, interactive webinar learn about the importance of sentence-level instruction both for developing writing skills and improving reading comprehension. First, they establish a framework for understanding best practices in sentence work. They then examine parts of speech as a method of understanding the way words interact with each other and sentence parts as building blocks for creating different kinds of sentences. They leave this webinar with a lesson plan framework and hands-on strategies they can implement the very next day with their students.
Presenter Bio:

An internationally recognized consultant in structured literacy, William Van Cleave is the Founder and President of W.V.C.ED, a company that provides professional development and effective teaching materials for instructors. He consults with districts and both private and public schools, providing trainings and workshops, curriculum development and alignment, and model teaching, particularly in the areas of written expression and vocabulary instruction. With his interactive, hands-on style, William has presented on effective teaching practices at conferences and schools both in the United States and abroad for over twenty years. Recent projects include consulting with three schools as part of a literacy grant in Montana; participating on the MTSS Writing Standards Committee for the State of Pennsylvania; implementing several Trainer of Trainers projects using his sentence structure approach; implementing a multi-year writing intensive for teachers in Franklin, TN; and writing a series of workbooks and a companion book on developing composition skills to complement his sentence approach. The author of three books, including Writing Matters and Everything You Want To Know & Exactly Where to Find It, as well as a number of educational tools and activities, William has served as a classroom teacher, tutor, and administrator at various points in his career.
CREDITS: Whether you watch live or view the recording, this training offers 2 cont. ed. hours for all, and Certificate Maintenance Hours (CMHs) for Speech Language Pathologists. ASHA accepts CMHs towards the 30 hours needed for re-certification. 
ATTENDEES: If you are registering someone else or registering a group of people, please enter the attendee names and emails in the PO section on the order summary page.

---
We Also Recommend