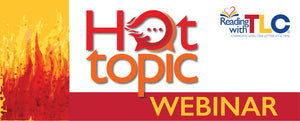 Recording of Elsa Cárdenas-Hagan: Structured Literacy Instruction among English Learners Webinar
Recording of Structured Literacy Instruction Among English Learners Webinar 

Presented by: Elsa Cárdenas-Hagan, Ed.D., CCC/SLP, CDT, CALT, QI
Please note: This is a per person fee. 
GROUP RATES: If you are interested in purchasing this webinar for 10 or more members of your school, district, or company, you may click on the option to pay $450 for an unlimited number of attendees to watch live or view the recording when it's convenient for you for one month.
Please note: After adding this webinar to your cart and checking out, you will receive an email which will contain an important digital PDF that you need to download. This PDF contains the link to the recording of this webinar. On the recording sign-in page, you will find a link to the assessment survey and the handout.
Purchase orders are accepted at check out or they may be faxed to 781-812-2441, emailed to info@readingwithtlc.com, or mailed to Reading with TLC, 775 Pleasant Street, Suite 6, Weymouth, MA 02189. 

ATTENDEES: If you are paying for and registering someone else or registering a group of people, please enter the attendee names and emails in the "notes" section upon checkout.
Description: The number of English learners attending public schools continues to increase.  Educators working with students of all ages, both in general education and in special education,  can therefore benefit immensely from understanding the evidence-based approaches for teaching language and literacy to this diverse population of students.  This exciting new session is presented by Elsa Cárdenas-Hagan, Ed.D., CCC/SLP, CDT, CALT, QI, a renowned expert and national leader in the arena of structured literacy approaches for English learners. In this webinar we will explore each of the components of structured literacy and will gain practical strategies for the design and implementation of structured lessons which address cross-language and literacy connections. English as a second language strategies will also be discussed and modeled. Equip yourself and your colleagues with the needed information to address your diverse student population, and to get your questions answered live from such a noted authority in this arena. As always, all who register can watch live, and will also receive the recording for one month. 
 Presenter Bio:  Elsa Cárdenas-Hagan, Ed.D., CCC/SLP, CDT, CALT, QI
Dr. Elsa Cárdenas-Hagan is a bilingual speech and language pathologist, a certified teacher, dyslexia therapist, certified academic language therapist and a qualified instructor.  She is the President of the Valley Speech Language and Learning Center in Brownsville, Texas and works with the Texas Institute for Measurement, Evaluation and Statistics at the University of Houston. 
Elsa has spent the last 2 decades working with national research teams designing assessments and interventions for English learners who struggle with learning to read.  She has a passion for ensuring that every child in schools across the world has access to a highly qualified educator who can implement effective language and literacy instruction.
Elsa serves as the Chairperson of the National Joint Committee on Learning Disabilities, she is a Past-Vice- Chairperson of the International Dyslexia Association, Past Chairperson of the Texas State Board for Speech Pathology and Audiology and Past Chairperson of the Texas State Dyslexia Advisory Board. She has also served as a board member of the Academic Language Therapy Association, Southwest Regional Education Laboratory and Texas Comprehensive Center at the American Institutes for Research.  Elsa has served her local community as Co-Founder of Brownsville READS!  She is recognized for her reading reform efforts at the local, state, national and international levels.
Elsa has written many scholarly articles, curricular programs, and book chapters related to language and literacy development among English learners.  It is her hope that teachers will have the opportunity to learn evidence-based practices for teaching literacy to all students, including those who are English learners and struggle with learning to read.
CREDITS: This training offers 2 cont. ed. hours for all, and Certificate Maintenance Hours (CMHs) for Speech Language Pathologists. ASHA accepts CMHs towards the 30 hours needed for re-certification. 
CANCELLATION POLICY: No Refunds
---
We Also Recommend