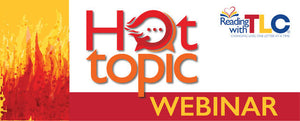 Recording of Strengths- Based Strategies for Autistic Students: Enhancing Engagement, Motivation, and Effectiveness Webinar
Presenters: Jessie Ginsburg, MS, CCC-SLP & Chris Wenger, MS, CCC-SLP aka "Speech Dude"
This is a per person fee
URGENT FINAL REGISTRATION STEP:  After purchasing this webinar, you will receive an email which will contain an important digital PDF that you need to download. (PLEASE CHECK YOUR SPAM FOLDER FOR ALL CORRESPONDENCE RELATED TO THIS TRAINING.)  This PDF contains the link to your recording. You will have this recording for one month. 
GROUP RATES: If you are interested in purchasing this webinar for 10 or more members of your school, district, or company, you may click on the option to pay $450 for an unlimited number of attendees to watch live or view the recording when it's convenient for you for one month.
Description:
Jessie and Chris each presented Hot Topic webinars for Reading with TLC in the past. They are coming back by popular demand, this time joining forces as the globally renowned dynamic duo who cannot wait to help you. Join us in an important webinar presented by two premiere thought leaders in the area of autism. Dr. Barry Prizant famously said, "Autism is not a tragedy - it's a different way of being human." There continues to be a widespread, and very problematic belief that autistic children need to be "treated" or "fixed" to better fit into the world. This leads to goals that focus on suppressing autistic traits, leading to low self-esteem and burnout. Advocates of students on the spectrum have been raising their voices in support of the neurodiversity movement, which rests on the tenet that variations of the human brain are not just natural and inevitable, but a valuable and beautiful piece of human society. Yet, many are still viewing autistic children as problems to be solved.
In this presentation, Chris and Jessie will discuss reframing autism as a brain
difference, rather than a disorder, and will challenge you to consider how you can
change your methods to incorporate neurodiversity affirming strategies and strengths- based approaches. Attendees will walk away inspired to make a shift in their minds, practices, and everyday interactions with autistic students. If you are ready to transform your approaches with innovative and neurodiversity affirming strategies and tools, then you do not want to miss this.
Presenter Bios:
Jessie Ginsburg is a Sensory Integration trained speech-language pathologist and CEO of Pediatric Therapy Playhouse, a top-rated clinic in Los Angeles. Through her
revolutionary publications and talks, and her internationally-acclaimed Inside Out
Sensory Certificate Program, Jessie inspires a new way of thinking about the speech-language pathologist's role in supporting autistic children.

Chris Wenger is an enthusiastic school-based speech-language pathologist and creator of the Dynamic Assessment of Social Emotional Learning. He is an internationally- acclaimed presenter who loves to share the most current trends to help older autistic students. A prominent thought leader in the field of speech pathology, and known on social media as "Speech Dude," Chris motivates and entertains fellow educators and clinicians through his humorous and inspiring messages
CREDITS: Whether you watch live or view the recording, this training offers 2 cont. ed. hours for all, and Certificate Maintenance Hours (CMHs) for Speech Language Pathologists. ASHA accepts CMHs towards the 30 hours needed for re-certification. 
Purchase orders are accepted at check out on the order summary page or they may be faxed to 781-812-2441, emailed to info@readingwithtlc.com, or mailed to Reading with TLC, 775 Pleasant Street, Suite 6, Weymouth, MA 02189. 
ATTENDEES: If you are paying for and registering someone else or registering a group of people, please enter the attendee names and emails in the PO section on the order summary page.
CANCELLATION POLICY: For cancellations made at least 10 days prior to the training, the webinar fee will be fully refunded. Cancellations made less than 10 days prior to the training will be subject to a $25 administrative fee. 
---
We Also Recommend