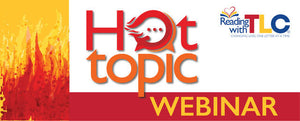 Recording of Marianne Nice: Simultaneously Address Literacy, Language & Speech with Multi-Component Instruction Webinar.
Recording of Simultaneously Address Literacy, Language & Speech with Multi-Component Instruction.
Presented by  Marianne Nice, MS, CCC-SLP
Please note: This is a per person fee. 
GROUP RATES: If you are interested in purchasing this webinar for 10 or more members of your school, district, or company, you may click on the option to pay $450 for an unlimited number of attendees to watch live or view the recording when it's convenient for you for one month.
Please note: After purchasing this webinar, you will receive an email which will contain an important digital PDF that you need to download. This PDF contains your final registration step that you must complete to view this recorded webinar as well as the handout and the survey/assessment. This recording will be available for 1 month from your date of purchase.
Description

This webinar shows speech language pathologists how to address speech and language goals while developing reading/spelling skills. The use of multiple targets and integrated instruction initiatives has been a recent topic of research and is being strongly recommended not only by SLPs but also for all educational professionals. Marianne will provide proven, practical strategies, and the logistics involved with implementing her approaches, used in multiple settings, including private or school settings utilizing a 3-tiered model of instruction. Skill areas include speech sound production, phonemic awareness, phonics, reading fluency, vocabulary, and comprehension. Merging oral and written language will help you to become more efficient in your work, saving you time and paperwork, while greatly enhancing the success of your students. Videos and visuals provided throughout the webinar will enhance this presentation.
About the presenter: Marianne Nice, MS, CCC-SLP is a speech language pathologist and a certified reading specialist. She is on the adjunct faculty at UNH within the Communication Sciences and Disorders Department. As a vetted Turn Around Coach for the New Hampshire Dept of Ed., Marianne consults regularly to school districts on school change and closing reading achievement gaps. Marianne is also the lead national trainer for Reading with TLC. She is the owner and director of Language and Learning Connections in Portsmouth, NH where she provides clinical services to language and literacy challenged individuals.
CREDITS: This training offers 1.5 cont. ed. hours for all, and Certificate Maintenance Hours (CMHs) for Speech Language Pathologists. ASHA accepts CMHs towards the 30 hours needed for re-certification. 

CANCELLATION POLICY: Once purchased, this recording is non-refundable. 
Purchase orders may be faxed to 781-812-2441, emailed to info@readingwithtlc.com, or mailed to Reading with TLC, 775 Pleasant Street, Suite 6, Weymouth, MA 02189. If you are buying this recording for more than one person's viewing, or are purchasing this for someone other than yourself, please be sure to include the names and email addresses of all registrants in the Notes section upon checkout.
---
We Also Recommend