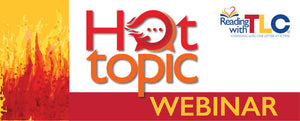 Recording of Marianne Nice, MS, CCC-SLP: Sight Words: The Right Way and the Wrong Way to Teach them Webinar
Presenter: Marianne Nice, MS, CCC-SLP
This is a per person fee
URGENT FINAL REGISTRATION STEP:  After purchasing this webinar, you will receive an email which will contain an important digital PDF that you need to download. (PLEASE CHECK YOUR SPAM FOLDER FOR ALL CORRESPONDENCE RELATED TO THIS TRAINING.)  This PDF contains the link to your recording. You will have this recording for one month. 
GROUP RATES: If you are interested in purchasing this webinar for 10 or more members of your school, district, or company, you may click on the option to pay $450 for an unlimited number of attendees to watch live or view the recording when it's convenient for you for one month.
Description:
Are you tired of using the same old methods to teach sight word knowledge?  Do you feel like there has to be a better way? Back by popular demand, we are bringing in Marianne Nice, licensed speech language pathologist, reading specialist, IDA certified structured literacy dyslexia specialist, and world renowned speaker, for an encore presentation of one of our most popular webinars ever. 
"I liked how I could see some students in action and have take-aways I can use tomorrow with students." Sherry Montminy, Interventionist, Newport, Vermont

"She provided a lot of ideas / resources / activities which I can use immediately. I have already adjusted how I am introducing sight words to my students." Sara Haxter, Special Education Teacher, Charlottesville, VA 

This dynamic webinar will explore the best and worst ways to teach "sight words."  Marianne will begin by reviewing the science of word learning and the role of orthographic mapping in the development of sight word knowledge. She will also review the biggest myths and the commonly used ineffective instructional practices surrounding sight word acquisition.  Marianne will dive into research based recommendations to teach sight words to even your most struggling students. Get ready for fresh ideas and practical strategies to engage your students while teaching them, not only how to read those high frequency words, but also how to spell common sight words.  Regardless of the word list you use, you will find this webinar valuable and eye-opening! 

In this webinar you will learn about:
The neurological basis of word learning, including orthographic mapping and how it relates to sight word knowledge
What sight word learning isn't:  The WRONG WAY to teach sight words
The research based recommendations for teaching sight word knowledge
Practical, instructional practices that work
Programs that have a uniquely effective approach to teaching sight words
If you attended and enjoyed this live and recorded webinar that was originally presented on December, 14 2020, and decide to attend this as a refresher, the content will be the same. 
Presenter Bio:
Marianne Nice, MS, CCC-SLP, is a speech-language pathologist and reading specialist with 21 years of experience in K-12 education.  Marianne specializes in the diagnosis and treatment of dyslexia and related literacy disorders. Because of her background and experience with dyslexia, she has earned the prestigious International Dyslexia Association - Center for Effective Reading Instruction - designation of Structured Literacy Dyslexia Specialist. She regularly provides professional development and consultation to school systems both locally and nationally. She consults to school districts on multi-tiered systems of support models and the use of effective school-wide literacy interventions. She has been a speaker at several national language and literacy conventions and was recently asked by IDA to provide a national training on teaching structured literacy online.  Marianne lives in southern New Hampshire with her husband, also a teacher, and her two children ages 17 and 14.
 CREDITS: Whether you watch live or view the recording, this training offers 2 cont. ed. hours for all, and Certificate Maintenance Hours (CMHs) for Speech Language Pathologists. ASHA accepts CMHs towards the 30 hours needed for re-certification. 
Purchase orders are accepted at check out on the order summary page or they may be faxed to 781-812-2441, emailed to info@readingwithtlc.com, or mailed to Reading with TLC, 775 Pleasant Street, Suite 6, Weymouth, MA 02189. 
ATTENDEES: If you are paying for and registering someone else or registering a group of people, please enter the attendee names and emails in the PO section on the order summary page.
CANCELLATION POLICY: No cancellations 
---
We Also Recommend