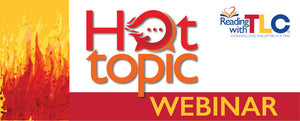 Recording of Nadine Gaab: Screening for Developmental Dyslexia and other Reading Disabilities: The WHY, WHOM, WHEN, HOW and WHERE
Presented by Nadine Gaab, PhD

This is a per person fee

URGENT FINAL REGISTRATION STEP:  After purchasing this webinar, you will receive an email which will contain an important digital PDF that you need to download. (PLEASE CHECK YOUR SPAM FOLDER FOR ALL CORRESPONDENCE RELATED TO THIS TRAINING.)  This PDF contains the link to your recording. You will have this recording for one month. 
GROUP RATES: If you are interested in purchasing this webinar for 10 or more members of your school, district, or company, you may click on the option to pay $450 for an unlimited number of attendees to watch live or view the recording when it's convenient for you for one month.
Description:
This timely session will address screening for literacy milestones and reading disabilities, including developmental dyslexia in early grades (pre-K-1st). It will provide the WHY behind the screening movement with a strong focus on the neurobiology of reading development and reading disabilities. It will introduce the 'Dyslexia Paradox' and will further outline the important constructs to screen for with a developmental lens and discuss practical steps for implementing a screening protocol in various educational or clinical settings. The session will conclude with an overview of different screening instruments and criteria for picking the right screener as well as a discussion about the educational and clinical implications of screening young children.
Presenter Bio:
Dr. Nadine Gaab, PhD,  is an Associate Professor of Pediatrics at Boston Children's Hospital Boston/Harvard Medical School and a member of the faculty at the Harvard Graduate School of Education. Nadine's work focuses on developmental cognitive neuroscience, particularly in language-based learning disabilities. Her research within the Laboratories of Cognitive Neuroscience examines the development of typical and atypical language and literacy skills in the pediatric brain as well as on pre-markers of learning disabilities and the development of screening tools for screening literacy milestones and reading disabilities such as dyslexia. She is the 2019 recipient of the LDA Award (Learning Disabilities Association America) for her work on learning disabilities. In 2018, Nadine was presented with the Allan C. Crocker Award for her advocacy on behalf of children with dyslexia and reading disabilities and efforts around the recent passage of the Massachusetts screening legislation (under the guidance of Decoding Dyslexia MA). She has also been recognized by the International Dyslexia Association in her receipt of the Norman Geschwind Memorial lecture 2020 and the Alice H. Garside Award for outstanding leadership in advancing the science and advocacy of dyslexia. She is an international speaker, frequently presenting to educators and parents on the brain science of typical and atypical literacy development as well as best screening practices for early literacy milestones, dyslexia and other reading impairments.
CREDITS: Whether you watch live or view the recording, this training offers 2 cont. ed. hours for all, and Certificate Maintenance Hours (CMHs) for Speech Language Pathologists. ASHA accepts CMHs towards the 30 hours needed for re-certification. 
Purchase orders are accepted at check out on the order summary page or they may be faxed to 781-812-2441, emailed to info@readingwithtlc.com, or mailed to Reading with TLC, 775 Pleasant Street, Suite 6, Weymouth, MA 02189. 
ATTENDEES: If you are paying for and registering someone else or registering a group of people, please enter the attendee names and emails in the "notes" section on the order summary page.
CANCELLATION POLICY: For cancellations made at least 10 days prior to the training, the webinar fee will be fully refunded. Cancellations made less than 10 days prior to the training will be subject to a $25 administrative fee. 
---
We Also Recommend