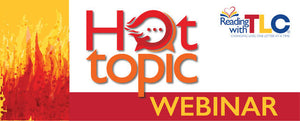 Recording of Tara Roehl: Ready, Set, Connect - Working With Students Via Webcam
Recording of Ready, Set, Connect:  Working With Students Via Webcam

Presented by Tara Roehl, MS, CCC- SLP
Please note: This is a per person fee. 
GROUP RATES: If you are interested in purchasing this webinar for 10 or more members of your school, district, or company, you may click on the option to pay $450 for an unlimited number of attendees to watch live or view the recording when it's convenient for you for one month.
This recording will be available for 1 month, starting the day after purchase. 
Please note: After adding this webinar to your cart and checking out, you will receive an email which will contain an important digital PDF that you need to download. This PDF contains contains the link to your recording. 
ATTENDEES: Please note: This is a per person fee. If you are paying for and registering someone else or registering a group of people, please enter the attendee names and emails in the "notes" section upon checkout.
Purchase orders are accepted at check out or they may be faxed to 781-812-2441, emailed to info@readingwithtlc.com, or mailed to Reading with TLC, 775 Pleasant Street, Suite 6, Weymouth, MA 02189. 
Description:
Let's Connect! Distance learning is a growing field for both teachers and therapists, and an extremely hot topic in light of recent events. This training will give an overview of how to work with clients over the internet. Learn about HIPAA and FERPA considerations when picking a platform. Have fun using a variety of games, web based activities and even implementing physical products you have in your office! This full training webinar will give you instructions on how to set you up for your first session, use activities during the session, and wrap up at the end. Along with other skills and lessons, see how Lively Letters is also being used in telepractice sessions. So sit back, relax, grab your beverage of choice and let's learn about distance learning from the safety and security of your home! 
Presenter Bio:

Tara Roehl is a nationally certified Speech-Language Pathologist. She owns and operates a private telepractice clinic in Colorado focusing on social cognition, executive functioning and the use of technology in therapy. Earlier in her career, Tara worked as a speech therapist in the public school systems in Illinois and California, as well as a private clinic in the San Francisco bay area. As a lead therapist in the schools, Tara designed and launched the district's "Speech/Social Group" program for children with speech delays and/or High Functioning Autism diagnoses. Tara also worked in an internationally recognized private practice clinic focusing on the social/pragmatic needs of students with ADHD, High Functioning Autism, Aspergers and related disorders. In recent years, Tara has extended her practice by working with individuals with disabilities outside of the United States, including developing long distance remote speech therapy approaches with individuals in Rwanda and the Philippines. Tara speaks and trains parents and therapists through webinars, state conferences and at both national and international conventions. She also runs The Telepractice Course, an online webinar teaching professionals how to run a successful online practice.  Tara holds Bachelors of Science and Masters of Science in Speech-Language Pathology from Indiana University of Pennsylvania.
CREDITS: This training offers 2 cont. ed. hours for all, and Certificate Maintenance Hours (CMHs) for Speech Language Pathologists. ASHA accepts CMHs towards the 30 hours needed for re-certification. 
CANCELLATION POLICY: For cancellations made at least 10 days prior to the training, the webinar fee will be fully refunded. Cancellations made less than 10 days prior to the training will be subject to a $25 administrative fee.
---
We Also Recommend