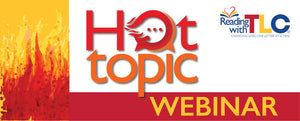 Recording of Rayna Dineen: Making Reading Magic Online! Engaging and Effective Online Reading Strategies, Resources & Activities!
Recording of Making Reading Magic Online! Engaging and Effective Online Reading Strategies, Resources & Activities!
Please note: This is a per person fee.
GROUP RATES: If you are interested in purchasing this webinar for 10 or more members of your school, district, or company, you may click on the option to pay $450 for an unlimited number of attendees to watch live or view the recording when it's convenient for you for one month.
Presenter: Rayna Dineen
This recording will be available for 1 month, starting the day after the live event. 
Please note: After adding this webinar to your cart and checking out, you will receive an email which will contain an important digital PDF that you need to download. This PDF contains the link to your recording.
Purchase orders are accepted at check out or they may be faxed to 781-812-2441, emailed to info@readingwithtlc.com, or mailed to Reading with TLC, 775 Pleasant Street, Suite 6, Weymouth, MA 02189. 
ATTENDEES: Please note that this is a per person registration fee. If you are paying for and registering someone else or registering a group of people, please enter the attendee names and emails in the "notes" section upon checkout.
Description 
Whether or not you have jumped into the arena of teaching language and literacy online, learn how to take engagement to the next level by attending this new offering on online teaching. Because of the wealth of information and resources that will be shared, we decided to increase this to a 2 hour webinar. See what makes this session different:
Learn how to take your students on exciting virtual field trips to see live animals and ocean creatures while supporting their literacy skills
Learn how to integrate art, movement, song, comics, videos and games so that kids are not simply sitting in front of a computer screen.
Grab lots of free materials, games and resources that kids love!
Explore fantastic free reading programs that are extremely engaging and research based.
This exciting webinar will share a wide range of engaging multi-sensory, structured literacy programs, games, songs, and resources for teaching reading to even the most reluctant, striving readers. Whether you are new to teaching online, or have already been doing so and need stellar online reading resources, then this workshop is for you! The resources that will be shared are especially effective with students who have learning differences, dyslexia, or are learning English as a second language. The strategies used by Reading Quest, a non-profit consulting and tutoring organization, are supported by research recommendations for a structured literacy approach. 
Reading Quest's founder and executive director, Rayna Dineen, will share online resources, apps, reading games. free e-book sites, and original, as well as adapted games which help make teaching reading fun and magical. The presenter will share catchy tips for teaching b & d and original teaching videos for teaching short vowels and magic e/silent e that you can share with your students. 
This session will address meeting your student's social emotional needs, in addition to supporting yourself during this challenging time. Rayna will also share tips for working with students who have slow wifi or no wifi, who struggle to get online, and/or have never used technology before.
Each participant will also receive access to many free resources, including fun worksheets and games you can do with your students online. Whether you use Lively Letters, or some other structured phonics program, these techniques can enrich and enhance your current program. Rayna will also share examples of reading games you can create, purchase, or adapt with pre-existing games, such as Fortnite Monopoly, Don't Rock the Boat, Candyland and Twister. Reading Quest has nine years of data showing remarkable growth in reading, perseverance and confidence with students tutor
ed using these strategies.  Join us online find what will work for you!
Presenter Bio:
Rayna Dineen loves teaching and has worked in education for 38 years. She

 

is the founder and director of Reading Quest, a non profit organization in Santa Fe, NM.  Reading Quest provides reading training for teachers and tutors and employs a team of reading specialists to tutor 300 students every week. Rayna has two master's degrees from Teacher's College, Columbia University and doctoral work from Colorado State University. Rayna founded the EL Education School, Santa Fe School for the Arts & Sciences in 2000 and served as a teaching principal there for thirteen years. She has also worked as an education consultant for EL Education, a transformational education non-profit serving hundreds of schools in the US. She has consulted for Harlem Village Academies, Heritage and Polymath schools in India and Discover Learning in Tanzania, a collaboration between Save the Children and UC Berkeley.  Rayna contributed to the ELA Primary Literacy Foundation Skills Block portion of the EL Education K-2 curriculum which is one of the most highly rated ELA curriculums in the country.  Rayna also contributed to the writing of 

Management in the Active Classroom

, a highly regarded positive classroom management book for educators, and the EL Education book, 

Learning That Lasts.
CREDITS: This training offers 2 cont. ed. hours for all, and Certificate Maintenance Hours (CMHs) for Speech Language Pathologists. ASHA accepts CMHs towards the 30 hours needed for re-certification. 
CANCELLATION POLICY: No cancellations.
---
We Also Recommend