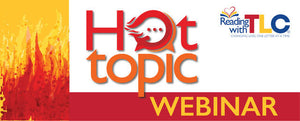 Recording of Jan Hasbrouck: Understanding, Assessing, and Teaching Our Students with Dyslexia Webinar
Presenter: Jan Hasbrouck, Ph.D
This is a per person fee

GROUP RATES: If you are interested in purchasing this webinar for 10 or more members of your school, district, or company, you may click on the option to pay $450 for an unlimited number of attendees to watch live or view the recording when it's convenient for you for one month.
URGENT FINAL REGISTRATION STEP:  After purchasing this webinar, you will receive an email which will contain an important digital PDF that you need to download. (Check your spam folder.)  This PDF contains the link to your recording. You will have this recording for 1 month.
Description:
Dyslexia is a disorder with well-documented emotional, behavioral, and social impacts on students with dyslexia and their families, along with the academic challenges. The actual impact of these concerns varies in part because dyslexia itself varies—in both the severity of the impairment (mild, moderate, severe) and the way in which individuals and their families are able to respond to their learning challenges.

Our understanding of dyslexia has deepened over the past two decades, due in part to new technologies being used by researchers to study the complex brain functions involved in reading and writing. Research has focused on both the neurobiological factors involved, including brain structures and the contribution of genetics, as well as the instructional processes that have proven to be effective in building a reading brain. While the International Dyslexia Association has developed a definition of dyslexia based on a convergence of reading science, there still is not universal agreement on how to define it. A number of myths and misunderstandings continue to persist regarding this neurobiological disorder which must be addressed and dispelled.

Participants in the full workshop will:
1. Know about the current research on dyslexia.
2. Know the various ways that dyslexia has been defined and described.
3. Know common myths and misunderstandings about dyslexia.
4. Discuss issues around identifying students with dyslexia.
5. Understand why we can now conclude that with appropriate instruction and intervention students with dyslexia can be taught to read at a level at or close to grade level expectations.

Content is based on the book: Conquering Dyslexia (2019) by Jan Hasbrouck, Ph.D.
Intended Audience: All Professional Educators/Administrators K-5, Interventionists K-12, Reading and Dyslexia Specialists, Literacy Coaches, School Psychologists, & Parents
Presenter Bio:
Dr. Jan Hasbrouck is a researcher, educational consultant, and author. She was a reading specialist and literacy coach for 15 years before teaching at the University of Oregon and later becoming a professor at Texas A&M University. She served as Executive Consultant to the Washington State Reading Initiative and as an advisor to the Texas Reading Initiative. Dr. Hasbrouck has provided educational consulting to individual schools across the United States as well as in Mexico, Peru, Guatemala, Honduras, Jamaica, and Germany, helping teachers, specialists, and administrators design and implement effective assessment and instructional programs targeted to help low- performing readers.
Dr. Hasbrouck earned her B.A. and M.A. from the University of Oregon, and completed her Ph.D. at Texas A&M. Her research in areas of reading fluency, reading assessment, instructional coaching, and English Learners has been published in numerous professional books and journals. She is the author and coauthor of several books including "Conquering Dyslexia", "Reading Fluency", "Student- Focused Coaching" and "Educators as Physicians", along with several assessment tools. Dr. Hasbrouck works with the McGraw Hill publishers as an author of their "Wonders" and "Wonder Works" reading and intervention programs. In 2019 she helped found Read Washington, a 501(c3)
nonprofit organization with the mission to "provide professional development opportunities, based on the science of reading, so every student becomes a skilled and confident reader." She also enjoys volunteering at her grandson's K-8 school in Seattle.
CREDITS: Whether you watch live or view the recording, this training offers 2 cont. ed. hours for all, and Certificate Maintenance Hours (CMHs) for Speech Language Pathologists. ASHA accepts CMHs towards the 30 hours needed for re-certification. 

Purchase orders are accepted at check out on the order summary page or they may be faxed to 781-812-2441, emailed to info@readingwithtlc.com, or mailed to Reading with TLC, 775 Pleasant Street, Suite 6, Weymouth, MA 02189. 
ATTENDEES: If you are paying for and registering someone else or registering a group of people, please enter the attendee names and emails in the PO section on the order summary page.
CANCELLATION POLICY: No cancellations. 
---
We Also Recommend