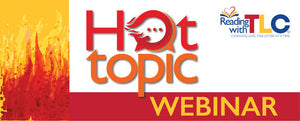 Recording of Chris Wenger: Hello...Motivation, Are You There? Amazing Strategies to Level Up Engagement in Students of ALL Ages Webinar
Presented by Chris Wenger, MS, CCC-SLP
This is a per person fee
GROUP RATES: If you are interested in purchasing this webinar for 10 or more members of your school, district, or company, you may click on the option to pay $450 for an unlimited number of attendees to watch live or view the recording when it's convenient for you for one month.
URGENT FINAL REGISTRATION STEP:  After purchasing this webinar, you will receive an email which will contain an important digital PDF that you need to download. (Check your spam folder.) This PDF contains the link to your recording. 
Description:
Research shows that students who believe in themselves are more likely to persist when faced with academic and social challenges. Our students are living in unprecedented times due to the impact of COVID-19, and now, more than ever, we need fun and engaging ideas that will help build our students' confidence, motivation, and tenacity for online and in person instruction. We also need some comic relief! Veteran speech language pathologist and national presenter, Chris Wenger, widely known as the "Speech Dude" on social media, is coming to share his unique and fun ways to engage students, while also keeping us uplifted and entertained. If you are looking to foster a growth mindset in your students with social emotional needs, then this is a webinar you don't want to miss! Within this webinar, you will learn strategies to help your students discover how powerful their brains are and how they can turn negative self-talk into positive thoughts. This will not only help them academically, but will empower them in their social lives as well. The ideas and tools presented will help you continue to maintain strong relationships with your students, while encouraging them to grow as individuals. So, are you ready to catch some positive vibes and energy? Then what are you waiting for.....click that registration button!
Presenter Bio:
Chris Wenger is an enthusiastic school-based SLP and nationally-acclaimed presenter who loves to share his knowledge about growth mindset and practical ways to infuse it into the school setting for students. Chris's experience in using confidence building strategies in his own speech therapy sessions has provided him a depth of knowledge for making effective connections between self-confidence and education. Chris is the author of Speech Language Technologists: What's New in Technology to Save Time and Accelerate Therapy Outcomes, an extensive resource handbook. Chris is widely known on social media as "The Speech Dude." A prominent thought leader in the field of education, Chris motivates and entertains fellow educators and clinicians through his humorous and inspiring posts and videos. You will walk away from Chris's lively webinar with new ideas that will help foster our students' confidence towards their academics and social life. 
CREDITS: Whether you watch live or view the recording, this training offers 2 cont. ed. hours for all, and Certificate Maintenance Hours (CMHs) for Speech Language Pathologists. ASHA accepts CMHs towards the 30 hours needed for re-certification. 
Purchase orders are accepted at check out on the order summary page or they may be faxed to 781-812-2441, emailed to info@readingwithtlc.com, or mailed to Reading with TLC, 775 Pleasant Street, Suite 6, Weymouth, MA 02189. 
ATTENDEES: If you are paying for and registering someone else or registering a group of people, please enter the attendee names and emails in the "notes" section on the order summary page.
CANCELLATION POLICY: No refunds.
---
We Also Recommend