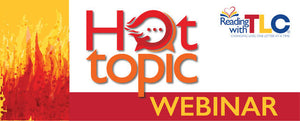 FREE Recording of Marianne Nice: Online Reading Tutoring - Providing Structured Literacy Lessons via Telepractice
FREE Recording of Online Reading Tutoring: Providing Structured Literacy Lessons via Telepractice

Presenter: Marianne Nice, MS, CCC-SLP

Description:

For so many who are transitioning to online teaching due to the COVID-19 pandemic, we are excited to bring back a trusted authority in literacy, Marianne Nice, who will show you practical strategies for delivering structured literacy lessons to students via online learning. Marianne will dive into the 'how to's" of online teaching and will provide sample activities you can use with your students.   She will include suggestions for various online platforms that are available for you to use. She will demonstrate how to adapt the materials you already have to use via webcam, will describe how to use your tablet apps with platforms such as Zoom, and will recommend online resources, apps, programs, and websites that offer free or cost-effective solutions. Marianne will be showing you how to up the interaction and engagement factor while also maintaining the research-based methodology you are accustomed to delivering to your students. Save your seat for this exciting new webinar!
Presenter Bio:

This webinar is presented by nationally recognized speaker, speech language pathologist, certified reading specialist, and consultant, Marianne Nice, MS, CCC-SLP.  Marianne , who has 20 years experience in K-12 education,  is a former adjunct faculty member of the UNH Graduate Program in Speech-Language Pathology.  She provides professional development and consults to school systems on Multi-tiered Systems of Support (MTSS) models, to improve academic outcomes in literacy and math. Marianne is trained in over 11 reading intervention programs and provides case consultation and private literacy evaluations for individual students through her private practice. She is a 6-time speaker at the ASHA National Convention and also presents for state level language and literacy organizations. Marianne is also a national trainer for Reading with TLC.  With her husband of 18 years (also an educator) she recently started a blog on 
realityed.com
.   Marianne has 2 children, ages 15 and 12 and resides in New Hampshire.
CREDITS: This training offers 2 cont. ed. hours for all, and Certificate Maintenance Hours (CMHs) for Speech Language Pathologists. ASHA accepts CMHs towards the 30 hours needed for re-certification. 
Please note: If you do add this item to your cart and check out, you will receive an email which will contain the link to your recording. 
---
We Also Recommend