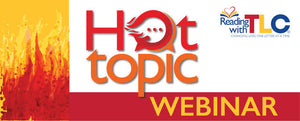 Recording of Sarah Ward: Developing Reading and Writing Skills in Students with Executive Function Challenges
Recording of Developing Reading and Writing Skills in Students with Executive Function Challenges
Presenters:  Sarah Ward, MS CCC-SLP and Kristen Jacobsen, MS CCC-SLP
Please note: This is a per person fee. 
GROUP RATES: If you are interested in purchasing this webinar for 10 or more members of your school, district, or company, you may click on the option to pay $450 for an unlimited number of attendees to watch live or view the recording when it's convenient for you for one month.
This recording will be available for 1 month, from the date of purchase. 
Please note: After adding this webinar to your cart and checking out, you will receive an email which will contain an important digital PDF that you need to download. This PDF will contain the link to the recording, the assessment, and the handout.  
Purchase orders are accepted at check out or they may be faxed to 781-812-2441, emailed to info@readingwithtlc.com, or mailed to Reading with TLC, 775 Pleasant Street, Suite 6, Weymouth, MA 02189. 

ATTENDEES: If you are paying for and registering someone else or registering a group of people, please enter the attendee names and emails in the "notes" section upon checkout.
Description:
Join our two, world renowned, super star speakers, Sarah Ward and Kristen Jacobsen,  to learn new and innovative ways to support your students with executive function challenges when they are learning new literacy skills! Executive function challenges can really hinder progress as students can struggle to internalize and generalize literacy skills and strategies. If you are an educator, literacy teacher, reading specialist, special education teacher, or speech-language pathologist then this webinar is for you! Learn easy to implement strategies to help your students focus and learn new literacy skills during instruction. 
To  become stronger readers and writers, there are 3 stages of the executive function process students must learn: planning, self monitoring, and problem solving. Mastering these stages is vital to a student's success in developing literacy skills. The first stage, planning involves engaging working memory to envision a future narrative of how students anticipate a task will be completed. During the second stage of self-monitoring, students use metacognitive strategies to focus their attention, organize steps and compare their plan with the actual result. Finally, students think flexibly to problem solve when a plan is not working optimally.

 We know that reading and writing are necessary for learning across the curriculum. They place a high demand on the working memory, situational awareness, organization and flexible thinking skills that are the very pillars to the executive function system. Learn how this system functions and the easy to implement executive function based teaching approaches so students can easily transition from "learning to read" to "reading to learn".  You will also learn strategies that can improve student's independent writing abilities. Walk away from this webinar with strategies to aid your students in achieving mastery in these executive functioning and literacy skills.
 In this webinar, you will learn how to help a student with executive functioning challenges develop and strengthen their literacy skills, and this process begins with planning, self monitoring, and problem solving. Once the student has added these executive functioning skills to their toolbelt, their literacy will improve as they will be able to better internalize the reading and writing skills with which they are presented.
Presenter Bios:
 Sarah Ward and Kristen Jacobsen, the Co-Owners and Co-Directors of  Cognitive Connection, LL, are world renowned, award-winning  authorities and speakers in the area of executive function skills.
Sarah Ward has over 25 years experience in diagnostic evaluations, treatment and 
case management of children, adolescents and adults with a wide range of developmental and 
acquired brain based learning difficulties and behavioral problems not limited to but including:



 Attention Deficit Disorder

    •    Verbal Learning Disabilities

    •    Non-Verbal Learning Disabilities

    •    Asperger Syndrome

    •    Other Social-Cognitive Learning Disabilities

    •    Traumatic Brain Injury

    •    Acquired Brain Injury



Her particular interest is in the assessment and treatment of executive function deficits.

 Sarah also provides consultation and expert witness testimony regarding the symptoms and functional 
presentation of deficits associated with brain based learning disabilities and the appropriateness of 
academic placement and treatment programs.

She became a specialist in the assessment and rehabilitation of traumatic brain injury with an 
emphasis on the treatment of executive functions. She subsequently began to train graduate students 
in speech and language pathology, medical and special education professionals on the symptoms and 
treatment methods to improve the language, cognitive, executive function and social skills of brain 
based disorders.  



Sarah,  a Past President of the Massachusetts Brain Injury Association, holds a faculty appointment at the Massachusetts General 
Hospital Institute of Health Professions where she provides instruction to graduate level students in the 
assessment techniques, development of therapeutic objectives, and intervention strategies for 
individuals with traumatic brain injury.


Sarah is dedicated to developing innovative treatment strategies and educating the community to 
understand, care for and celebrate the learning and behavioral based differences in individuals with 
brain based learning differences.

 She has presented to and consulted with over 1200 public and private schools in the United States, Canada and Europe.


Kristen Jacobsen, MS CCC-SLP, is a trained speech-language pathologist who is Co-Director at the Cognitive Connections Executive Function Practice.  She provides training and coaching for teachers and professionals nationally.  She also provides parent consultations, as well as student training and coaching services. Ms. Jacobsen works to research, develop and implement new methodology and programs that can maximize a student's ability to learn to their potential and increase self-esteem as they become more independent learners. Kristen is the co-author of the award-winning 360 Thinking Program which aims to improve students' executive function skills at school and home. She enjoys seeing students make new gains, as well as training teachers and therapists in the use of executive function teaching approaches. She has interests in cognition, language, and mindfulness.  

She is a specialist in pediatric and adolescent learning challenges in the areas:  
Executive Function
Language-Based Learning Disability 
Language and Literacy

Nonverbal Learning Disability
ADHD
Post Concussive Syndrome and TBI
Asperger's Disorder and Autism spectrum disorders
Ms. Jacobsen has worked as an educational consultant and speech-language pathologist in public education, private schools, and hospital settings.  Ms. Jacobsen has provided teacher training seminars and school consultations nationally. Prior to establishing a private practice, she worked with colleagues to create and implement comprehensive group therapy programs for language and cognition at Massachusetts General Hospital. She focused on working with adolescents diagnosed with ADHD and Post-Concussive Syndrome. She developed programs to successfully transition students into their school settings following mild traumatic brain injury. 
Ms. Jacobsen was the recipient of the MGH Expertise in Clinical Practice Award.  During personal time, she enjoys biking, traveling as well as spending time with her husband and their 3 children.
CREDITS: This training offers 2 cont. ed. hours for all, and Certificate Maintenance Hours (CMHs) for Speech Language Pathologists. ASHA accepts CMHs towards the 30 hours needed for re-certification. 
CANCELLATION POLICY: No Refunds. 
---
We Also Recommend