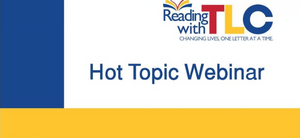 Recording of Children & Technology: Benefits, Risks, & Screen Time Guidelines Webinar
Recording of Children & Technology: Benefits, Risks, & Screen Time Guidelines Webinar
  by Suzanne DuCharme MacFarlane, MS CCC-SLP
This webinar is offered live and as a recording. Whether or not attending the webinar live, all registrants will receive the recording one day after the event. This recording will be available for 1 month, starting the day after the live event. 
Please note: After purchasing this webinar, you will receive an email which will contain an important digital PDF that you need to download. This PDF contains your final registration step that you must complete to this recorded webinar.
Purchase orders are also accepted by emailing info@readingwithtlc.com, calling 781-331-7412, or faxing 781-812-2441.
Description
Technology is all around us, all day, everyday. Even young children are drawn to the bright colors and rapidly changing graphics that Iphones and Ipads provide. But how do we know how much is too much? Parents often ask about the use of technology in helping kids who are in speech therapy, and some apps may be useful. But there is also a lot of media and societal pressure to give kids access to technology, and misinformation that technology and talking toys actually facilitate language development. This webinar will take a look at what the research shows about the impact of technology on the developing brain, and how we can sort out the myths from the facts. This will include discussion of the impact on attention, social skills, memory and processing and language development. There will be discussion about the benefits and risks of technology in younger and older children. We will also review Suzanne's "Technology Check-up," a document she created to help guide educators and parents in setting up an appropriate dose, and identifying when kids might be getting too much tech. Strategies and suggestions for supporting parents will also be provided.
Learner Objectives: Following this presentation, attendees should be able to:
Define technology "dose" and its importance in supporting children

State 3 conclusions from the evidence about the impact of technology on the developing brain

Answer the question, "Do apps and talking toys actually help kids with speech and language issues?"

State 2 positive aspects of using technology with young children

Complete a technology check up and demonstrate appropriate use of the checklist

State 2 strategies for limiting technology use in children
Intended Audience: This workshop is intended for parents, educators, caregivers, SLPs, OTs and anyone who is interested in creating healthy technology habits for themselves and the children in their world.
Presenter Bio: Suzanne Ducharme MacFarlane, MS CCC-SLP
Suzanne's passion, her Life Work, is to help children with special needs and their families. Suzanne's primary training is as a pediatric Speech Language Pathologist. Nearly 25 years of experience in a variety of settings has given Suzanne the opportunity to develop and refine advanced clinical skills in treating children with a range of complex medical and developmental challenges. In 2001, Suzanne opened her private practice, now located in Norwell, MA. Since 2007, Suzanne has been offering traditional speech pathology services combined with Craniosacral Therapy, which has led to the development of an approach called holistic speech pathology. This innovative approach looks at the whole child, and considers their communication or feeding issues through the lens of their family, and their journey to reach
CREDITS: This training offers 1.5 cont. ed. hours for all, and Certificate Maintenance Hours (CMHs) for Speech Language Pathologists. ASHA accepts CMHs towards the 30 hours needed for re-certification. 
ATTENDEES: If you are registering someone else or registering a group of people, please enter the attendee names and emails in the "notes" section upon checkout.
CANCELLATION POLICY: For cancellations made at least 10 days prior to the training, the webinar fee will be fully refunded. Cancellations made less than 10 days prior to the training will be subject to a $25 administrative fee. Purchase orders may be faxed to 781-812-2441, emailed to info@readingwithtlc.com, or mailed to Reading with TLC, 775 Pleasant Street, Suite 6, Weymouth, MA 02189. Please be sure to include the names and email addresses of all attendees.
---
We Also Recommend