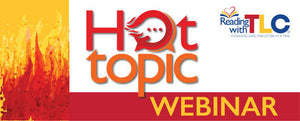 Recording of Donna Marcantonio: Living Language: A Patterned Approach & Strategies for Bringing Grammar and Syntax to Life Webinar
Presenter: Donna Marcantonio M.S. Ed.
This is a per person fee.
GROUP RATES: If you are interested in purchasing this webinar for 10 or more members of your school, district, or company, you may click on the option to pay $450 for an unlimited number of attendees to watch live or view the recording when it's convenient for you for one month.
URGENT FINAL REGISTRATION STEP:  After purchasing this webinar, you will receive an email which will contain an important digital PDF that you need to download. (Check your spam folder.)  This PDF contains the link to your recording. You will have this recording for 1 month.
Description:
Brain studies show that working with patterns builds comprehension and memory.
Teaching underlying patterns and relationships organizes fragmented information into
meaningful, memorable parts and wholes. Though often omitted, taught as isolated
skills and relegated to writing instruction, grammar and syntax are foundational for
building vocabulary, fluency, and comprehension during reading instruction. This
presentation shares ways to teach grammar and syntax that are meaningful, orderly,
and engaging. It introduces hands-on manipulatives and use of colors and coding and
weaves grammar and syntax into language instruction as an integrated whole.
How we learn instructs (builds within) our avenues of thought. Language instruction
shapes our minds, ideas and culture. Its effects are far-reaching. Whether you are a
teacher, student, parent or student of life, you may find Living Language methods not
only engaging and effective, but transformative for how we think, orient ourselves and
relate.
Presenter Bio:
Donna Marcantonio
M.S. Ed. 
was trained in the late 80's to teach students with Dyslexia using the Orton-Gillingham method. Over the years, she has taught Language Arts in public and private schools, clinics and private tutoring and expanded this structured, multi-sensory approach to include all aspects of language. Donna currently tutors students in Language Arts, Math and SATI/ACT Prep on line and gives presentations on teaching instruction. She is a published poet, singer-songwriter, essayist and home farmer.
CREDITS: Whether you watch live or view the recording, this training offers 2 cont. ed. hours for all, and Certificate Maintenance Hours (CMHs) for Speech Language Pathologists. ASHA accepts CMHs towards the 30 hours needed for re-certification. 

Purchase orders are accepted at check out on the order summary page or they may be faxed to 781-812-2441, emailed to info@readingwithtlc.com, or mailed to Reading with TLC, 775 Pleasant Street, Suite 6, Weymouth, MA 02189. 
ATTENDEES: If you are paying for and registering someone else or registering a group of people, please enter the attendee names and emails in the PO section on the order summary page.
CANCELLATION POLICY: No cancellations. 
---
We Also Recommend