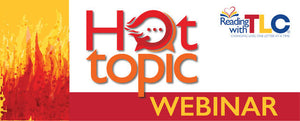 Recording of Marianne Nice: Multi Tiered Systems of Supports & RTI Webinar: Take it to the Next Level
Recording of Multi Tiered Systems of Supports & RTI Webinar: Take it to the Next Level
Presented by Marianne Nice, MS CCC-SLP
Please note: This is a per person fee. 
GROUP RATES: If you are interested in purchasing this webinar for 10 or more members of your school, district, or company, you may click on the option to pay $450 for an unlimited number of attendees to watch live or view the recording when it's convenient for you for one month.
Please note: After purchasing this webinar, you will receive an email which will contain an important digital PDF that you need to download. This PDF contains your final registration step that you must complete to view this recorded webinar as well as the handout and the survey/assessment. This recording will be available for 1 month from your date of purchase.
Purchase orders are also accepted by emailing info@readingwithtlc.com, calling 781-331-7412, or faxing 781-812-2441.

Description
Are you frustrated with your RTI or Multitiered Systems of Supports (MTSS) model and results related to academic areas such as reading and math? Join national MTSS expert, Marianne Nice, a dynamic consultant who's been in the trenches successfully creating sustainable school change for the past 15 years. Finally, here's a webinar packed with the practical step-by-step plan and tools you can use immediately with your school teams. The last half hour will feature an interactive Q & A with a live panel of leaders in the trenches who can answer questions about getting started and keeping folks involved, creating positive school culture and long term sustainability, coordinating and implementing powerful interventions, and the impact of curriculum. This webinar will provide you with an overview of the "must haves" of a strong MTSS model and clarify the many misunderstandings between RTI & MTSS and its implementation. Participants will be introduced to a proven process that will move their school and/or district forward in formalizing their systems of supports and improving academic outcomes. Attendees will have access to freebie resources from the presenter.
Learner Objectives:
Discuss why strong MTSS models are critical to closing achievement gaps in reading & math.

Clarify the non-negotionables associated with MTSS and how to achieve sustainable change.

Describe differences in MTSS models between elementary, middle and high schools

Describe an action plan for moving your organization forward with MTSS that supports sustainable change.
Presenter Bio: Marianne Nice, MS CCC-SLP
This webinar is presented by nationally recognized speaker, speech language pathologist, certified reading specialist, and consultant, Marianne Nice, MS, CCC-SLP. Marianne , who has 20 years experience in K-12 education, is a former adjunct faculty member of the UNH Graduate Program in Speech-Language Pathology. She provides professional development and consults to school systems on Multi-tiered Systems of Support (MTSS) models, to improve academic outcomes in literacy and math. Marianne is trained in over 11 reading intervention programs and provides case consultation and private literacy evaluations for individual students through her private practice. She is a 6-time speaker at the ASHA National Convention and also presents for state level language and literacy organizations. Marianne is also a national trainer for Reading with TLC. With her husband of 18 years (also an educator) she recently started a blog on realityed.com. Marianne has 2 children, ages 15 and 12 and resides in New Hampshire.
CREDITS: This training offers 2 cont. ed. hours for all, and Certificate Maintenance Hours (CMHs) for Speech Language Pathologists. ASHA accepts CMHs towards the 30 hours needed for re-certification. 
ATTENDEES: If you are paying for and registering someone else or registering a group of people, please enter the attendee names and emails in the "notes" section upon checkout.
CANCELLATION POLICY: For cancellations made at least 10 days prior to the training, the webinar fee will be fully refunded. Cancellations made less than 10 days prior to the training will be subject to a $25 administrative fee. Purchase orders may be faxed to 781-812-2441, emailed to info@readingwithtlc.com, or mailed to Reading with TLC, 775 Pleasant Street, Suite 6, Weymouth, MA 02189. Please be sure to include the names and email addresses of all attendees.
---
We Also Recommend