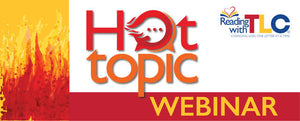 Recording of Lynn Carahaly: Apraxia and Literacy: Identification and Strategies Webinar
Recording of Apraxia and Literacy: Identification and Strategies Webinar by

Lynn Carahaly, M.A., CCC-SLP
1.5 Hour Recording.
Please note: This is a per person fee. 
GROUP RATES: If you are interested in purchasing this webinar for 10 or more members of your school, district, or company, you may click on the option to pay $450 for an unlimited number of attendees to watch live or view the recording when it's convenient for you for one month.
Please note: After purchasing this webinar, you will receive an email which will contain an important digital PDF that you need to download. This PDF contains your final registration step that you must complete to view this recorded webinar as well as the handout and the survey/assessment. This recording will be available for 1 month from your date of purchase
Description

Children with speech sound disorders such as childhood apraxia of speech can be at a higher risk for reading and spelling impairments. The quality of phonological processing and the presence of poor speech articulation are predicative of later reading deficits, particularly dyslexia. This lecture will focus on why dyslexia often co-occurs with apraxia. We will discuss how to assess, identify, and understanding the cognitive underpinnings related to mixed disorders, as well as treatment strategies to facilitate early intervention. The importance of a dual-treatment model will also be discussed in addition to elevating other underlying cognitive proficiencies to become a fluent reader.
Learner Outcomes:
Participants will be able to identify the neurological origin of mixed disorders such as apraxia and dyslexia.
Participant will be able to assess and identify dyslexia markers in children with limited and disordered speech.
Participants will be able to balance treatment plans to execute both motor-planning and literacy development skills.
About the Presenter:
Lynn Carahaly, M.A., CCC-SLP, is the executive director of Foundations Developmental House, LLC, located in Gilbert, AZ, founded in 2003. She received her Bachelor of Arts and Master of Arts degrees in Speech and Hearing Science from The Ohio State University. Carahaly lectures worldwide and has been a past keynote speaker for the Childhood Apraxia of Speech Association of North America (CASANA) national convention. She has presented at national ASHA conventions and other state conventions sharing her knowledge and passion for the field of Speech-Language Pathology and related learning disorders. Carahaly is considered an accomplished, renowned Speech-Language Pathologist with expertise in childhood apraxia of speech (CAS) and language-based learning disabilities. FDH is home of The Speech-EZ® Apraxia Program. She has developed a family of iPad applications for apraxia (used in over 100 countries). Her other interests and specializations include: social communication disorder, dyslexia, ADHD/executive function deficit, gifted asynchronous development and disabilities in the twice exceptional (2e) population, and auditory processing disorder (APD). 
CREDITS: This training offers 1.5 cont. ed. hours for all, and Certificate Maintenance Hours (CMHs) for Speech Language Pathologists. ASHA accepts CMHs towards the 30 hours needed for re-certification. 

CANCELLATION POLICY: Once purchased, this recording is non-refundable. 
Purchase orders may be faxed to 781-812-2441, emailed to info@readingwithtlc.com, or mailed to Reading with TLC, 775 Pleasant Street, Suite 6, Weymouth, MA 02189. If you are buying this recording for more than one person's viewing, or are purchasing this for someone other than yourself, please be sure to include the names and email addresses of all registrants in the Notes section upon checkout.
---
We Also Recommend