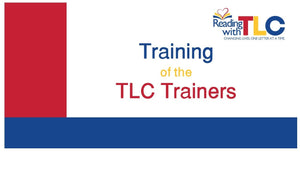 On Demand Training of the TLC Trainers Webinar with Live Q & A on 1-29-2024
Participants must complete the two included recordings and then the live scheduled Q & A session that occurs on Monday, January 29, 2024, 6:00 PM - 8:00 PM EST.

This 11.5 hour certification training is a combination of recorded and live webinars presented by Reading with TLC Co-directors and program authors, Nancy Telian, M.S.,CCC-SLP, and Penny Castagnozzi, Please read all information below before registering for this training series.  This is a per person fee and only those who have been fully trained in and using the Lively Letters program are qualified to register for this series. 
IMPORTANT: SUBMITTING YOUR CONTRACT:
After registering you will receive an email (please check your spam folder) with a contract that you need to download, print, complete and submit to us asap. Only after we receive your signed contract we will email you the links to the 2 recorded sessions and the link to the live session you have selected. We will also then mail you your Trainers Bundle. This shipment could take up to 10 days to receive. Once you receive your bundle you'll then need to view the two recorded webinars at your convenience, referring to the included materials. In total, there are 9.5 hours of recorded webinars
included in Session 1 and Session 2. This must all be completed before you can attend Session 3, the live Q & A session that you are registering for. 

INCLUDED WITH THIS TRAINING:
The fee of $235 includes a substantial bundle of presentation materials that is described below. All who choose to take this training must have possession of the newly revised Lively Letters Instruction Manual, 4th Edition. If you do not already own this revised manual, you may purchase it at a 50% discount in the drop down below.

CREDITS: 
Those who attend the recorded and live trainings will receive 11.5 cont. ed. hours after taking and submitting the assessment. Because this training includes the ASHA-approved 6.5 hour webinar, Speech Language Pathologists can select to receive ASHA CEUs for an additional $25 processing fee in a pop-up that will appear after adding this training to your cart. Those who choose the ASHA CEUs will also receive a certificate of attendance for the other 5 hours. This workshop will license, equip, and train you for presenting official Reading with TLC seminars/webinars to colleagues you work with (with no training fee) as a TLC Team Trainer.

DESCRIPTION OF THE THREE TRAINING SESSIONS:
For this Training of the TLC Trainers (TOT) webinar series, you will first view session 1, the 3-hour recorded webinar, learning key strategies for presenting our program and picking up important tips for making your Reading with TLC Lively Letters seminars as dynamic and effective as possible. Following that training, you will view session 2, the 6.5 hour recording of the Lively Letters full training, this time with the eyes of a presenter, following along in your binder of presenter notes. Session 3 is a live 2 hour Q&A session with the authors.  If you have any questions about this training, please contact Reading with TLC at 781-331-7412 or info@readingwithtlc.com.

MATERIALS INCLUDED FOR THIS TRAINING:
The bundle of training materials you receive will include all necessary PowerPoint presentations, presenter notes, handouts, videos, songs, and other trainer documents, plus an extra set of New Generation Lively Letters Basic Lowercase Picture and Plain Letter Cards and the Lively Letters Phonics Songs CD for demonstrations. 

THE TLC TRAINER LICENSE:
TLC Team Trainers are licensed to present official Lively Letters full training seminars to colleagues at their place of work or their professional organizations as long as they do not charge a presentation fee. TLC Team Trainers can also present Overview Presentations at conferences. After attending this webinar and presenting 5-10 free seminars to colleagues at your school district or professional organization as a TLC Team Trainer, you may choose to apply to become a TLC National Trainer. If accepted, this elite, advanced status would qualify you to present seminars for anyone, anywhere
you desire, charging fees for your presentation services. You may also be hired by Reading with TLC to present trainings within schools, conference centers, and at professional conferences.

PAYMENT: This training can be purchased via credit cards and purchase orders at check out. Purchase Orders may also be faxed to 781-812-2441, emailed to info@readingwithtlc.com, or mailed to Reading with TLC, 775 Pleasant Street, Suite 6, Weymouth, MA 02189. 

GROUPS OF ATTENDEES: If you are registering someone else or registering a group of people, please enter the attendee names and emails in the notes section upon checkout.

CANCELLATION POLICY: No Cancellations
Financial Disclosure: Nancy Telian and Penny Castagnozzi are the owners and authors of Reading with TLC and receive royalties. Non-financial Disclosure: The presenters do not have any non-financial disclosures.
---
We Also Recommend