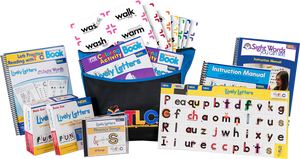 New Generation Standard Bundle for Kindergarten SAVE $82.90
0002-8462-44FF-906E:1400
This bundle includes the refreshed, bigger and better New Generation Sight Words You Can See program. To celebrate its new arrival, you can save $40 on this bundle by using promo code SIGHTWORDS at checkout  by September 30, 2023.
New Generation
Standard Bundle for Kindergarten
$607.99 ($690.89 value)
This is the most popular bundle for those working with kindergarten students in individual, small group, or whole class settings. 

Would you like to add a digital download of the Instruction Manual for an additional $60? (value $127.99) Just click "YES" on the dropdown option and read the Download Instructions and Terms and Conditions listed below before purchase. If not, click "NO."

New Generation Lively Letters Basic Set (New Generation Lively Letters Instruction Manual 4th Edition and New Generation Lively Letters Basic Size Lowercase Picture and Plain Letter Cards)

New Generation Lively Letters Basic Size Uppercase Picture and Plain Letter Cards

New Generation Lively Letters Phonics Songs CD

New Generation Lively Letters Reproducible Lowercase Coloring/Activity Book

New Generation Lively Letters Reproducible Uppercase Coloring /Activity Book

6 New Generation Lively Letters Lowercase Picture and Plain Letter Mini Card sets

6 New Generation Lively Letters Uppercase Picture and Plain Letter Mini Card sets

New Generation Let's Practice Reading with TLC Reproducible Workbook

 New Generation  Sight Words You Can See Basic Set

Reading with TLC Tote Bag

Download Instructions if adding digital product:


After checkout, you will receive an email with instructions on accessing the content. Save this email for future downloads and access. Please follow the steps in that email. 


Although you can view the content in your browser, we recommend using the free Flux Player app. The Flux Player app manages the download, storage, and viewing of the content and is also required for printing any products. You will be able to print up to 25 pages each time you select print. In addition, the content can be viewed offline once downloaded to the Flux Player.

After you have installed and signed-in to the Flux Player, you will see the content you have purchased. There is no need to sign-out of the Flux Player. Just open it whenever you want to view the content. When you make additional purchases, just make certain you use the same email when ordering and open the Flux Player after you checkout.

You are licensed to download this e-product onto 5 devices. To use on other devices, just install the Flux Player and sign-in with the email and player password. If you cannot remember the password, you can use the "Forgot password" option during sign-in.

If you are purchasing this e-product for someone other than yourself, please print their name and email address in the purchase order box on the shopping cart page.

Terms and Conditions

This manual is copyrighted. This purchase provides the license for one person's use. You have the license to use this manual with your own students/children. You may download this manual onto five of your computers or devices. You have permission to share the stories with the parents of your own students. You do not have permission to share the contents of this e-product with anyone else as this is a one-person license, not to be shared throughout your school, your district, private practice, or organization.  You also may not upload this manual onto any shared sites such as shared online teaching sites.

Cancellation Policy: No Refunds
---
We Also Recommend