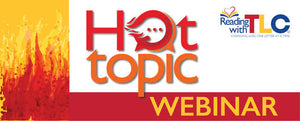 Recording of Nancy Telian: Magic of Morphology: Prefixes, Suffixes, & Roots Webinar
Recording of Magic of Morphology: Prefixes, Suffixes, & Roots Webinar                  
Presented by

Nancy Telian, MS, CCC-SLP
Please note: This is a per person fee. 
GROUP RATES: If you are interested in purchasing this webinar for 10 or more members of your school, district, or company, you may click on the option to pay $450 for an unlimited number of attendees to watch live or view the recording when it's convenient for you for one month.
Please note: After purchasing this webinar, you will receive an email which will contain an important digital PDF that you need to download. This PDF contains your final registration step that you must complete to view this recorded webinar as well as the handout and the survey/assessment. This recording will be available for 1 month from your date of purchase.
Description

This popular and unique webinar is presented by Reading with TLC co-founder and co-director, and Lively Letters author, Nancy Telian, MS, CCC-SLP. In this lively session, Nancy will be demonstrating how to simultaneously improve students' reading, spelling, and vocabulary skills by developing their morphological awareness (the recognition, understanding, and use of meaningful word parts). Morphological awareness instruction is appropriate for those working with students in first grade and higher. Content is aligned with the Common Core State Standards in the area of multisyllable words and morphological awareness (prefix, suffix, and roots). After sharing introductory information, including clarification of terms and research rationale, Nancy will share many hands-on strategies for improving development knowledge and use of inflectional and derivational morphemes. Participants will also receive an extensive appendix listing lists of prefixes, roots, and suffixes, as well as links for resources that address morphology.
Presented by Nancy Telian, MS, CCC-SLP, Reading with TLC co-founder and co-director, and author of Lively Letters. Nancy is a frequent speaker at state and national level conferences as well as within school districts throughout the US. Along with presenting trainings in the Lively Letters program which she created in 1990, Ms. Telian presents on a number of other topics including keynote presentations. A veteran speech language pathologist of 40 years, Nancy's expertise has been in the area of literacy for the past 28 years. She has treated and assessed hundreds of students in the area of written language disorders athrough her private practice in Weymouth, MA.
CREDITS: This training offers 2 cont. ed. hours for all, and Certificate Maintenance Hours (CMHs) for Speech Language Pathologists. ASHA accepts CMHs towards the 30 hours needed for re-certification. 

CANCELLATION POLICY: Once purchased, this recording is non-refundable. 
Purchase orders may be faxed to 781-812-2441, emailed to info@readingwithtlc.com, or mailed to Reading with TLC, 775 Pleasant Street, Suite 6, Weymouth, MA 02189. If you are buying this recording for more than one person's viewing, or are purchasing this for someone other than yourself, please be sure to include the names and email addresses of all registrants in the Notes section upon checkout.
---
We Also Recommend