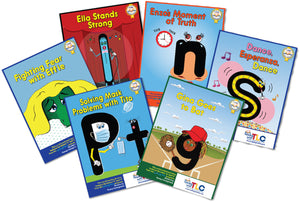 Lively Social Emotional Reproducible E-book Series (six stories)
This series is a collection of creative stories written by Penny Castagnozzi. Let the Lively Letters characters help you motivate your students through social/emotional issues with a sense of humor and endearment.
This series is intended for one person's use with his or her students/children only and may not be passed along to others. Please see Download Instructions & Terms and Conditions below before purchasing this product.
This series includes the following stories:
"Fighting Fear with Effie," features the Lively Letters "f" character. Effie struggled with the fear of getting sick and his father taught him how to fight that fear to get his fire back. 

"Gina Goes to Bat" features the Lively Letters "g" and "k" characters.

 This story

 is about a girl who is excited to try new things, but is afraid that she will fail. In the story she calls upon past successes to overcome her fear of trying something new.
"Ella Strands Strong" features the Lively Letters "l" character. The main character, Ella, faces a challenging situation and learns how to use positive imagery to get her confidence back to pursue her dream.
"A Moment of Truth for Enzo," features the Lively Letters "n" and "m" characters. Enzo finds himself in a predicament when he accidentally breaks one of his friend's treasures.  He struggles with telling his friend the truth, but realizes, in the end, that honesty truly is the best policy.
"Dance, Esperanza, Dance," features the Lively Letters "s" character. Esperanza is a snake who is devastated when she doesn't fit in with others. She learns to celebrate her differences and her unique talents, bringing hope to others who also struggle to fit in.
"Solving Mask Problems with Tito," features the Lively Letters "t" and "p" characters. Tito struggles with having to wear a mask and has to change his perspective about that challenge and work through his anxieties.
Download and use these colorful stories in online lessons or print them out for your students who will enjoy and benefit from the inspirational and motivating lessons.
Download Instructions:
After checkout, you will receive an email with instructions on accessing the content. Save this email for future downloads and access. Please follow the steps in that email. 
Although you can view the content in your browser, we recommend using the free Flux Player app. The Flux Player app manages the download, storage, and viewing of the content and is also required for printing any products. You will be able to print up to 25 pages each time you select print. In addition, the content can be viewed offline once downloaded to the Flux Player.
After you have installed and signed-in to the Flux Player, you will see the content you have purchased. There is no need to sign-out of the Flux Player. Just open it whenever you want to view the content. When you make additional purchases, just make certain you use the same email when ordering and open the Flux Player after you checkout.
You are licensed to download these e-products onto 5 devices. To use on other devices, just install the Flux Player and sign-in with the email and player password. If you cannot remember the password, you can use the "Forgot password" option during sign-in.
To share one of the reproducible stories with your student(s), you will need to click "print" and then choose to print to PDF instead of printing the document onto paper. You can then send that PDF file to your student(s).
If you are purchasing this e-product for someone other than yourself, please print their name and email address in the purchase order box on the shopping cart page.
Terms and Conditions

These stories are copyrighted. This purchase provides the license for one person's use. You have the license to use these e-books with your own students/children.  You have permission to share the stories with the parents of your own students. You do not have permission to share the contents of this e-product with anyone else as this is a one-person license, not to be shared throughout your school, your district, private practice, or organization.  You also may not upload these stories onto any shared sites such as shared online teaching sites.
Cancellation Policy: No Refunds


---
We Also Recommend