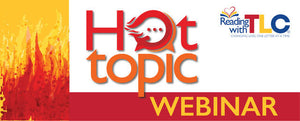 Recording of Marianne Nice: Lively Letters Follow-Up Training: Kick it Up a Notch!
Recording of Lively Letters Follow-Up Training: Kick it Up a Notch!             
Presented by

 Marianne Nice
Please note: This is a per person fee. 
URGENT FINAL REGISTRATION STEP:  After purchasing this webinar, you will receive an email which will contain an important digital PDF that you need to download. (PLEASE CHECK YOUR SPAM FOLDER FOR ALL CORRESPONDENCE RELATED TO THIS TRAINING.)  This PDF contains the link to your recording. You will have this recording for one month. 
GROUP RATES: If you are interested in purchasing this webinar for 10 or more members of your school, district, or company, you may click on the option to pay $450 for an unlimited number of attendees to watch live or view the recording when it's convenient for you for one month.
Description

This brand new follow-up training is coming to you from Reading with TLC's  lead national trainer, Marianne Nice, MS, CCC-SLP, who's been in the trenches for 19 years, not only implementing the Lively Letters program, but also providing school districts with training, coaching,  and consulting on its use. If you've been trained in the program, sign up to learn how to take your expertise to the next level. In this dynamic webinar, Marianne provides practical information in the following areas:
Review of the Most Important Strategies
Trouble Shooting for Problem Areas
Screening, Assessments, and Progress Monitoring Techniques
Guidance on Scope and Sequence for Classrooms
Tweaking the Program for Specific Types of Students
Small Group Work for Tracking – Tricks of the Trade
Suggestions for Working on Multiple Skills at Once
Strategies for Motivating your Most Resistant Learners
Fun Games and Activities
Tips for Planning School-Wide Use of TLC using MTSS & RTI
Integrating Lively Letters with other Approaches
Question and Answer Period
About the Presenter: Marianne Nice, MS, CCC-SLP is a nationally recognized speaker, speech language pathologist, certified reading specialist, and consultant. Marianne , who has 19 years experience in K-12 education,  is a former adjunct faculty member at the UNH Graduate Program in Speech-Language Pathology.  She provides professional development and consults to school systems on Multi-tiered Systems of Support (MTSS) models, to improve interventions and core instruction. Marianne is trained in over 11 reading intervention programs and provides case consultation and private evaluations for individual students through her private practice. She is a frequent speaker at the ASHA National Convention and for state level language and literacy organizations. Marianne is also a national trainer for Reading with TLC. She is the creator of the new website and blog, realityed.com.
CREDITS: This training offers 2 cont. ed. hours for all, and Certificate Maintenance Hours (CMHs) for Speech Language Pathologists. ASHA accepts CMHs towards the 30 hours needed for re-certification. 
CANCELLATION POLICY: For cancellations made at least 10 days prior to the training, the webinar fee will be fully refunded. Cancellations made less than 10 days prior to the training will be subject to a $25 administrative fee. Purchase orders may be faxed to 781-812-2441, emailed to info@readingwithtlc.com, or mailed to Reading with TLC, 775 Pleasant Street, Suite 6, Weymouth, MA 02189. Please be sure to include the names and email addresses of all attendees.
---
We Also Recommend