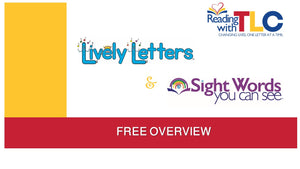 FREE Recording of Overview of Reading with TLC Studio (Web-based Platform) Webinar
This webinar will be presented by Reading with TLC Co-directors and program authors, Nancy Telian, M.S.,CCC-SLP, and Penny Castagnozzi.

Instead of adding this to your cart, you can just click on this link: https://attendee.gotowebinar.com/register/1510287402045387099
If you do add this to your cart and check out, you will receive an email with a document to download. That PDF will have the links to your recording and the assessment. 
Because useful, evidence-based educational content will be shared, certificates for 1.5 hours of continuing education can be earned whether watching live or watching the recording.  This recording will be available for 1 month. 
Description: This is an overview of the new web-based learning platform, Reading with TLC Studio. Join authors, Nancy Telian and Penny Castagnozzi, as they walk you through all of the features of the Studio. With more content added every single month, we will show you how to access and take advantage of the various teaching tools and resources available to Studio subscribers. Along with a very short overview of what Lively Letters and Sight Words You Can See are all about, including some of the important program components and strategies, you will get to see the Studio in action. Watch as Nancy and Penny demonstrate the various uses and assets within the  interactive white board and the flash card lessons. See how you can also access and utilize the growing suite of activities/ worksheets, teacher tools, posters, e-books, and trainings, with more content added every single month.
CREDITS: All who attend live or recorded can receive 1.5 cont. ed. hrs and CMHs (Certification Maintenance Hours) for SLPs. 

 ATTENDEES: If you are registering someone else or registering a group of people, please enter the attendee names and emails in the "notes" section upon checkout.
---
We Also Recommend