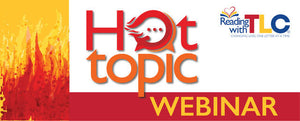 Recording of Marianne Nice: Dyslexia: Myths, Facts, and Interventions Webinar
Recording of Dyslexia: Myths, Facts, and Interventions Webinar      

Presented by

Marianne Nice, MS, CCC-SLP
Please note: This is a per person fee. 
URGENT FINAL REGISTRATION STEP:  After purchasing this webinar, you will receive an email which will contain an important digital PDF that you need to download. (PLEASE CHECK YOUR SPAM FOLDER FOR ALL CORRESPONDENCE RELATED TO THIS TRAINING.)  This PDF contains the link to your recording. You will have this recording for one month. 
GROUP RATES: If you are interested in purchasing this webinar for 10 or more members of your school, district, or company, you may click on the option to pay $450 for an unlimited number of attendees to watch live or view the recording when it's convenient for you for one month.
Please note: After purchasing this webinar, you will receive an email which will contain an important digital PDF that you need to download. This PDF contains your final registration step that you must complete to view this recorded webinar as well as the handout and the survey/assessment. This recording will be available to view for one month from the date of purchase.
Description

This presentation is designed for administrators, teachers, parents and advocates alike.
What participants can expect:
review of the neurobiological basis for dyslexia and the myths
examine the underlying linguistic components of early reading and how these components differ for individuals with dyslexia
learn how achievement gaps are formed and how school systems can respond with appropriate MTSS/RTI models in place
examine interventions that are best designed for students diagnosed with dyslexia and why they work
learn the "must have" components of a multi sensory Orton-Gillingham based lesson plan and key questions to ask when evaluating such approaches
review of what to look for in strong IEP goals
learn some of the common pitfalls that prevent students from making aggressive gains
Presenter: Marianne Nice, MS, CCC-SLP Marianne is vetted by the NHDOE as a Turnaround Coach for NH schools and is an adjunct faculty member at the University of New Hampshire within the Communication Sciences and Disorders Dept. A speech language pathologist and certified reading specialist, Marianne has been trained in 11 different reading intervention programs. She is a sought-after presenter and is the lead National Trainer for TLC. Known for her "down-to-earth" and motivating style of speaking, Marianne brings with her years of experience, not only as a service provider in multiple settings, but also as a mentor and consultant to many educators, clinicians, and administrators who have seen first-hand the direct results of her contributions via dramatic gains in school-wide literacy scores.
CREDITS: This training offers 2.0 cont. ed. hours for all, and Certificate Maintenance Hours (CMHs) for Speech Language Pathologists. ASHA accepts CMHs towards the 30 hours needed for re-certification. 

CANCELLATION POLICY: Once purchased, this recording is non-refundable. 
Purchase orders may be faxed to 781-812-2441, emailed to info@readingwithtlc.com, or mailed to Reading with TLC, 775 Pleasant Street, Suite 6, Weymouth, MA 02189. If you are buying this recording for more than one person's viewing, or are purchasing this for someone other than yourself, please be sure to include the names and email addresses of all registrants in the Notes section upon checkout.
---
We Also Recommend