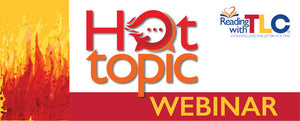 Recording of Marianne Nice, MS, CCC-SLP: Accelerate Vocabulary through Dynamic Instruction and Morphology Webinar
Presenter: Marianne Nice, MS, CCC-SLP/ Amy Leone
This is a per person fee
We offer group rates for groups of 5 or more attendees. Call 781-331-7412 ext.1 to get a quote for your group.
URGENT FINAL REGISTRATION STEP:  After purchasing this webinar, you will receive an email which will contain an important digital PDF that you need to download. (PLEASE CHECK YOUR SPAM FOLDER FOR ALL CORRESPONDENCE RELATED TO THIS TRAINING.)  This PDF contains the link to your recording. You will have this recording for one month. 
GROUP RATES: If you are interested in purchasing this webinar for 10 or more members of your school, district, or company, you may click on the option to pay $450 for an unlimited number of attendees to watch live or view the recording when it's convenient for you for one month.
Description:
Although many commercially available core reading programs have some vocabulary activities included, many educators admit that vocabulary practice is the first to go when teaching within a tight schedule. Likewise, many reading intervention programs overlook vocabulary despite the significant contribution it makes to reading comprehension. Our presenter candidly admits that, back in the day, she used to rely on "old school" strategies such as providing a lengthy definition and asking students to use the word in a sentence. Research in recent years has provided us with a number of new directions for teaching vocabulary. Marianne Nice cannot wait to share these new science-based strategies and videos, in this webinar. 
This webinar is appropriate for general education teachers, special education teachers, speech language pathologists, reading specialists, tutors, administrators, and parents. In this dynamic session, you will see videos of teachers actually introducing and practicing vocabulary using Isabel Beck's model for robust vocabulary instruction. She will show us what types of vocabulary words to choose for instruction, and where to find them. Marianne will also demonstrate ways to encourage generalization of new vocabulary words within oral language and writing activities. In this multi-pronged approach, our presenter will demonstrate various pieces of the puzzle that should not be overlooked:
 - Teaching "tier two" vocabulary words that have a greater long-term benefit because they span across different content and communication settings
- Teaching "academic" vocabulary words that aid students in understanding and carrying out academic tasks
- Teaching morphology, involving the smallest meaningful units of sound (prefixes, roots, and suffixes)
Presenter Bio:
Marianne Nice, MS, CCC-SLP, is a speech-language pathologist and reading specialist with 21 years of experience in K-12 education.  Marianne specializes in the diagnosis and treatment of dyslexia and related literacy disorders. Because of her background and experience with dyslexia, she has earned the prestigious International Dyslexia Association - Center for Effective Reading Instruction - designation of Structured Literacy Dyslexia Specialist. She regularly provides professional development and consultation to school systems both locally and nationally. She consults to school districts on multi-tiered systems of support models and the use of effective school-wide literacy interventions. She has been a speaker at several national language and literacy conventions and was recently asked by IDA to provide a national training on teaching structured literacy online.  Marianne lives in southern New Hampshire with her husband, also a teacher, and her two children ages 17 and 14.

 CREDITS: Whether you watch live or view the recording, this training offers 2 cont. ed. hours for all, and Certificate Maintenance Hours (CMHs) for Speech Language Pathologists. ASHA accepts CMHs towards the 30 hours needed for re-certification. 
Purchase orders are accepted at check out on the order summary page or they may be faxed to 781-812-2441, emailed to info@readingwithtlc.com, or mailed to Reading with TLC, 775 Pleasant Street, Suite 6, Weymouth, MA 02189. 
ATTENDEES: If you are paying for and registering someone else or registering a group of people, please enter the attendee names and emails in the PO section on the order summary page.
Cancellations: No cancellations
---
We Also Recommend