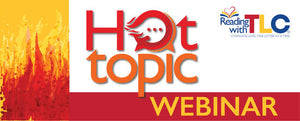 Recording of Suzanne Ducharme: Building Oral Language in Children: Myths, Facts & Strategies Webinar
Recording of Building Oral Language in Children: Myths, Facts & Strategies Webinar   
Presented by

 

Suzanne Ducharme, MS, CC-SLP.
Please note: This is a per person fee. 
GROUP RATES: If you are interested in purchasing this webinar for 10 or more members of your school, district, or company, you may click on the option to pay $450 for an unlimited number of attendees to watch live or view the recording when it's convenient for you for one month.
Please note: After purchasing this webinar, you will receive an email which will contain an important digital PDF that you need to download. This PDF contains your final registration step that you must complete to view this recorded webinar as well as the handout and the survey/assessment. This recording will be available for 1 month from your date of purchase.
Description

This workshop is primarily for parents and family members, early childhood educators, special education teachers, general ed. teachers, occupational and physical therapists, early intervention providers, daycare providers, as well as for SLPs and graduate students interested in very basic and introductory level content and ways to discuss and share up - to - date information on oral language development with their clients' families and collaborative team members. 
Children learn a staggering amount of language in their first 5 years. In that time, they must build a foundation that will allow them to fully engage with the kindergarten curriculum, build peer relationships and learn to navigate their world separate from their parents. Every year, millions of children are diagnosed with language delays and disorders, and require the specialized support of Speech Language Pathologists. One of our most frequent and important jobs is to educate parents and teachers in ways to support children who have trouble acquiring language or expressing themselves. Fortunately, even children who are developing language typically can benefit from the same strategies for expanding language, setting up the environment to support communication and using technology in appropriate ways. This highly informative workshop will review the major goals of communication development from birth-5 years, and provide practical strategies for enhancing language development in the classroom and at home. Common Myths of language development will also be reviewed and participants will be given the most current information to support best practices. In addition, there will be a discussion about the impact of technology on the developing brain and how to utilize technology in ways that support good habits.
What participants can expect:
 State the major developmental goal for each year 0-5 years;

State 3 myths of language development and their related "truth;"
State at least 3 strategies for facilitating language skills in young children;
State one strategy for setting up the environment to support communication skills in young children;
Discuss the impact of technology on the developing brain and provide one strategy for limiting screen time.
Presenter: Suzanne Ducharme's passion - her Life Work -  is to help children with special needs and their families. Suzanne's primary training is as a pediatric Speech Language Pathologist. Nearly 25 years of experience in a variety of settings has given Suzanne the opportunity to develop and refine advanced clinical skills in treating children with a range of complex medical and developmental challenges. In 2001, Suzanne opened her private practice, now located in Norwell, MA. Since 2007, Suzanne has been offering traditional speech pathology services combined with Craniosacral Therapy, which has led to the development of an approach called holistic speech pathology. This innovative approach looks at the whole child, and considers their communication or feeding issues through the lens of their family, and their journey to reach their highest potential. Providing supportive light touch therapies when needed allows for optimal development of the brain and whole child. Suzanne has also developed programs and specializations that were driven by the needs of the families she serves. This includes parent coaching and educational programs for families. In 2016, Suzanne's first book, Childhood Speech and Language Disorders, was published by Rowman and Littlefield. The book represents the integration of Suzanne's philosophy with practical and easily applied strategies for helping children learn communication skills, as well as support for parents navigating their own journey. Suzanne, has a reputation for developing deep relationships that goes beyond the clinical. She's a partner, a coach and a facilitator for the whole family, and is well known in the field for her results, experience, and compassion. Suzanne is the owner and director of The Offices of Suzanne Ducharme, MS, CC-SLP. 
CREDITS: This training offers 1.5 cont. ed. hours for all, and Certificate Maintenance Hours (CMHs) for Speech Language Pathologists. ASHA accepts CMHs towards the 30 hours needed for re-certification. 

CANCELLATION POLICY: Once purchased, this recording is non-refundable. 
Purchase orders may be faxed to 781-812-2441, emailed to info@readingwithtlc.com, or mailed to Reading with TLC, 775 Pleasant Street, Suite 6, Weymouth, MA 02189. If you are buying this recording for more than one person's viewing, or are purchasing this for someone other than yourself, please be sure to include the names and email addresses of all registrants in the Notes section upon checkout.
---
We Also Recommend