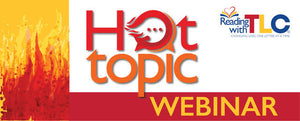 Recording of Sally Grimes: Build Oral Language & Vocabulary in Dual Language Learners & Others with Weak Language Skills Webinar
Recording of  Sally Grimes: Build Oral Language & Vocabulary in Dual Language Learners & Others with Weak Language Skills Webinar 
Presented by

 Sally Grimes
This a per person fee.
URGENT FINAL REGISTRATION STEP:  After purchasing this webinar, you will receive an email which will contain an important digital PDF that you need to download. (PLEASE CHECK YOUR SPAM FOLDER FOR ALL CORRESPONDENCE RELATED TO THIS TRAINING.)  This PDF contains the link to your recording. You will have this recording for one month. 
GROUP RATES: If you are interested in purchasing this webinar for 10 or more members of your school, district, or company, you may click on the option to pay $450 for an unlimited number of attendees to watch live or view the recording when it's convenient for you for one month.
Please note: After selecting this webinar, you will receive an email which will contain an important digital PDF that you need to download. This PDF contains your final registration step that you must complete to view this recorded webinar as well as the handout and the survey/assessment. This recording will be available for 1 month from your date of purchase.
Description

This webinar addresses the oral language and vocabulary needs of Dual Language Learners. The content is also useful to teachers of children who struggle with language and literacy for other reasons as well. The emphasis is on simple, inexpensive activities to do with children Pre K to Grade 3. Special Educators for children in Middle School may also find this information helpful. The activities, skills and concepts are aligned with the Early English Language Development Standards (E-ELD) from WIDA. The information in this webinar is also directly aligned with the ELA Common Core State Standards for Pre K through Grade 5.
What participants can expect to learn:
Recognize the importance of the link between speech and print when developing Oral Language especially for Dual Language Learners
Be able to use various Oral Language activities such as "The Talking Table", the Thirty Second Conversation (Moats) and Dialogic Reading
Be able to use Vocabulary building activities as they pertain to Dual Language Learners
Become knowledgeable about the main tenets of working with Dual Language Learners
About the presenter: Sally Grimes has provided consulting and professional development and graduate courses in the areas of Language and Literacy and Learning Disabilities for teachers and administrators Pre K-Grade 4 for 18 years. Prior to that, Sally's experience includes serving as Landmark School's first Admissions Director, performing clinical evaluations, serving on her local school board, teaching Pre K-3 Special Education classes and working with Mexican Americans in Texas and Illinois. Sally has served on the Governor's Commission on School Readiness and on the Massachusetts Literacy Planning Team. Recently, Sally was chosen to be a trainer of trainers for the Dual Language Learner Initiative for 2-5 year olds that the state recently launched. Sally is also an approved Trainer of Trainers for the State's new standards for Social-Emotional Learning and Approaches to Play and Learning.
CREDITS: This training offers 2 cont. ed. hours for all, and Certificate Maintenance Hours (CMHs) for Speech Language Pathologists. ASHA accepts CMHs towards the 30 hours needed for re-certification. 

---
We Also Recommend