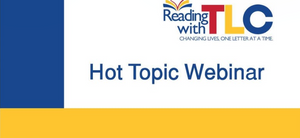 9-16-19 LIVE & RECORDED WEBINAR: Why Spelling Matters & How to Teach it! 7:00 PM – 9:00 PM EST
Date and Time
Monday, September 16, 2019  7:00 PM – 9:00 PM EST
9-16-19 LIVE & RECORDED WEBINAR: Why Spelling Matters & How to Teach it!  7:00 PM – 9:00 PM EST
PURCHASE THIS FOR A GROUP OF 5 OR MORE AND YOU'LL AUTOMATICALLY SAVE $5 EACH!
ATTENDEES: If you are registering someone else or registering a group of people, please enter the attendee names and emails in the "notes" section upon checkout.
This webinar is offered live and as a recording. Whether or not attending the webinar live, all registrants will receive the recording one day after the event. This recording will be available for 1 month, starting the day after the live event. 
Please note: After adding this webinar to your cart and checking out, you will receive an email which will contain an important digital PDF that you need to download. This PDF contains your final registration step that you must complete to receive your link to attend this webinar.
Purchase orders are accepted at check out or they may be faxed to 781-812-2441, emailed to info@readingwithtlc.com, or mailed to Reading with TLC, 775 Pleasant Street, Suite 6, Weymouth, MA 02189. 
Description
This webinar, presented by a masterful and passionate trainer of structured literacy and spelling, will provide you with the practical nuts and bolts information you need to plan and execute effective, research-based spelling instruction. Filled with strategies, resources, and engaging, interactive activities, this power-packed session will empower you to improve the spelling skills of students of various ages and skill levels. All who register can watch live and / or just watch the recording which will be available for one month after the live event. Those who attend live will have opportunities to get their particular questions answered in live time. Do not miss this important Hot Topic!
"LOVED JoAnn's personality:  her enthusiasm "sells" the content.  Very credible."
Marlane Parra, attendee of JoAnn Lense's last webinar
The Why
Good readers are not always good spellers, but good spellers are better readers (Ehri, 2000) and spelling ability actually predicts later reading success. (Berninger et al., 2002) Do you have the strategies you need? 
  The How
Our presenter will go through the various skill areas involved with teaching spelling, beginning with special tips for developing specific phonemic awareness skills related to spelling. Fun, research-based phonics tasks will also be covered, following a structured, multisensory framework of instruction. Another area that will be addressed is how to teach the spelling rules of our language. These include rules such as when to double a final consonant; when to use 'c', 'k, or 'ck;' and how to apply the silent 'e' rule. Moving into morphology (the use of meaningful prefixes, roots, and suffixes), attendees will learn specific strategies for teaching, practicing, and applying within various settings, morphological awareness strategies that can exponentially catapult spelling skills while also improving vocabulary knowledge, comprehension, and overall reading and writing skills. Another important, but often underaddressed area of spelling, involves the memorization of words and word parts, including those that are phonetically infrequent or irregular and difficult to memorize for spelling. Although there are plenty of spelling resources out there, this presenter will guide you to the easiest, and most effective ways to train these skills.
Presenter Bio:  JoAnn Lense
JoAnn Lense is an educational consultant who provides professional development in research-based reading instruction to various school districts throughout the United States through her company Literacy Now. JoAnn is a LCSW providing psychoacademic counseling and Orton Gillingham based remedial instruction to those living and succeeding with learning challenges. She is an Acadience Trainer and Mentor, as well as Level 1 Wilson Certified and a S.P.I.R.E. Trainer. She has been trained in direct and explicit Orton Gillingham teaching methodology. Currently, she is the Director of Training for Everyone Reading (formerly International Dyslexia Association: New York Branch) and has 1200+ hours of direct teaching experience in the IMSLEC accredited reading program Starting Over.
CREDITS: This training offers 2 cont. ed. hours for all, and Certificate Maintenance Hours (CMHs) for Speech Language Pathologists. ASHA accepts CMHs towards the 30 hours needed for re-certification. 
CANCELLATION POLICY: For cancellations made at least 10 days prior to the training, the webinar fee will be fully refunded. Cancellations made less than 10 days prior to the training will be subject to a $25 administrative fee. Purchase orders may be faxed to 781-812-2441, emailed to info@readingwithtlc.com, or mailed to Reading with TLC, 775 Pleasant Street, Suite 6, Weymouth, MA 02189. Please be sure to include the names and email addresses of all attendees.
---
We Also Recommend