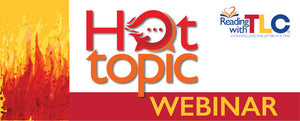 Recording of JoAnn Lense: Improve Vocabulary through Direct, Explicit Instruction: Elementary - H.S
Recording of Improve Vocabulary through Direct, Explicit Instruction: Elementary - H.S 
Please note: This is a per person fee. 
GROUP RATES: If you are interested in purchasing this webinar for 10 or more members of your school, district, or company, you may click on the option to pay $450 for an unlimited number of attendees to watch live or view the recording when it's convenient for you for one month.
Presented by JoAnn Lense
 This recording will be available for 1 month, starting the day after the live event. 
Please note: After purchasing this webinar, you will receive an email which will contain an important digital PDF that you need to download. This PDF contains your final registration step that you must complete to this recorded webinar
Purchase orders are also accepted by emailing info@readingwithtlc.com, calling 781-331-7412, or faxing 781-812-2441.

Description
This important webinar provides proven- effective, practical, and explicit vocabulary building strategies across all content based curriculum.  Participants will be learning how to choose the right kinds of vocabulary words, with interactive tasks such as practicing selecting target vocabulary from text. The importance of Tier 2 type vocabulary words will be highlighted. Specific techniques for introducing, practicing, and carrying over use of learned vocabulary words will be demonstrated. Sight words will also be discussed, highlighting the impact of these frequently used, and often difficult to learn, vocabulary words, with proven strategies for improving skill in this area. Moving onto morphology, an often underused, but important layer of literacy and language instruction, we will be discussing the Anglo-Saxon, Latin and Greek  foundations of the English language.  Participants will learn how to use research based structural analysis techniques, working with morphemes (meaningful prefixes, roots, and suffixes) at different grade levels, and tying in curriculum,  to improve vocabulary development as well as word reading and spelling. Special strategies for teaching reading and spelling of morphemes, recognizing and isolating of them in words, manipulating these meaningful word parts in words, and using them to glean meanings of words will be presented. JoAnn will also demonstrate practical and effective methods of building vocabulary developed by industry experts such as Isabella Beck, Anita Archer, and Robert Marzano. Webinar attendees will be able to explore several websites and free resources that can assist them in implementing overall vocabulary instruction strategies.
Presenter Bio:  JoAnn Lense
JoAnn Lense is an educational consultant who provides professional development in research-based reading instruction to various school districts throughout the United States through her company Literacy Now. JoAnn is a LCSW providing psychoacademic counseling and Orton Gillingham based remedial instruction to those living and succeeding with learning challenges. She is an Acadience Trainer and Mentor, as well as Level 1 Wilson Certified and a S.P.I.R.E. Trainer. She has been trained in direct and explicit Orton Gillingham teaching methodology. Currently, she is the Director of Training for Everyone Reading (formerly International Dyslexia Association: New York Branch) and has 1200+ hours of direct teaching experience in the IMSLEC accredited reading program Starting Over.
CREDITS: This training offers 2 cont. ed. hours for all, and Certificate Maintenance Hours (CMHs) for Speech Language Pathologists. ASHA accepts CMHs towards the 30 hours needed for re-certification. 
ATTENDEES: If you are paying for and registering someone else or registering a group of people, please enter the attendee names and emails in the "notes" section upon checkout.
CANCELLATION POLICY: For cancellations made at least 10 days prior to the training, the webinar fee will be fully refunded. Cancellations made less than 10 days prior to the training will be subject to a $25 administrative fee. Purchase orders may be faxed to 781-812-2441, emailed to info@readingwithtlc.com, or mailed to Reading with TLC, 775 Pleasant Street, Suite 6, Weymouth, MA 02189. Please be sure to include the names and email addresses of all attendees.
---
We Also Recommend