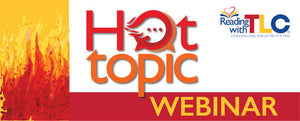 11-30-2023 Unlocking Potential: Online Teaching for Students with Dyslexia Live & Recorded Webinar 7-9 PM EST
Presenter: Michelle Breitenbach

Thursday, November 30, 2023  7:00 PM – 9:00 PM EST
This is a per person fee. 

All who register, whether or not they attend during the scheduled hours, will receive a link to the recorded webinar 1-2 days after the event.
GROUP RATES: If you are interested in purchasing this webinar for 10 or more members of your school, district, or company, you may click on the option to pay $400 for an unlimited number of attendees to watch live or view the recording when it's convenient for you for one month.
URGENT FINAL REGISTRATION STEP:  After purchasing this webinar, you will receive an email which will contain an important digital PDF that you need to download. (Check your spam folder.) This is critical whether you plan to view the live presentation or the recording that all registrants will receive by December 1st. (You will have this recording for one month.) This PDF contains the link to the final registration step that you must complete asap to secure your registration. If you do NOT complete this final registration step in advance of the webinar, you will not get the link to the live training or the recorded webinar. 
Description:
Join us for an insightful webinar as we delve into the world of online teaching, specifically tailored to benefit students with dyslexia. Did you know that one in five children in the United States faces dyslexia challenges? Many of these bright minds lack access to educators with the specialized certification they need for success. These remarkable, out-of-the-box thinkers are poised to shape our future, but they need the right guidance. The pandemic brought significant changes to our lives, and one positive outcome is the dramatic increase in online teaching for students with dyslexia. Now, children can connect with instructors from anywhere in the world who possess the precise skill set required to nurture their unique talents while delivering research-based structured literacy instruction. However, the key to effective online teaching lies in replicating the in-person experience with unwavering fidelity.

In this webinar, we will share top-notch strategies to help you recreate the richness of your face- to-face learning using your own materials, as well as various exceptional programs, including the materials and online platform for Lively Letters. Let's look ahead to a future where online teaching becomes a catalyst for change and improvement, enabling us to reach and educate these exceptional young minds wherever we are. Join us to explore the numerous benefits of online teaching for kids with dyslexia, and together, let's pave the way for a brighter future filled with opportunities for all. Don't miss out on this chance to make a meaningful impact!

Presenter Bio:
Michelle Breitenbach's journey supporting struggling readers began as a special education teacher in Massachusetts. She later transitioned to tutoring struggling readers as a Wilson- certified dyslexia practitioner in southern Florida. When the Pandemic hit, Michelle had already been teaching online for one year She creatively adapted her structured literacy lessons to include more games and movement, particularly tailored to students with ADHD and struggling readers. During the Pandemic, she created numerous free games and held multiple webinars to help other educators transition to online teaching. Michelle is passionate about helping fellow educators incorporate games and movement into their teaching methods, whether with existing materials or favorite resources like Teachers Pay Teachers. She specializes in teaching the 1 in 5 kids with dyslexia who lack access to online resources. Additionally, she has established a large, supportive community for Orton Gillingham tutors, guiding them in effective online teaching and successful business development. Michelle has been invited to present for numerous professional organizations and educational companies, and has provided literacy coaching for schools. Some of the topics Michelle has presented on have been "Climbing the Ladder of Reading," "Teaching Struggling Readers Online with Low-Tech Methods," "Kick Phonics Boredom to the Curb with Movement and Games," and "Transform your Reading Lessons with the Document Camera."
CREDITS: Whether you watch live or view the recording, this training offers 2 cont. ed. hours for all, and Certificate Maintenance Hours (CMHs) for Speech Language Pathologists. ASHA accepts CMHs towards the 30 hours needed for re-certification. 

Purchase orders are accepted at check out on the order summary page or they may be faxed to 781-812-2441, emailed to info@readingwithtlc.com, or mailed to Reading with TLC, 775 Pleasant Street, Suite 6, Weymouth, MA 02189. 
ATTENDEES: If you are paying for and registering someone else or registering a group of people, please enter the attendee names and emails in the PO section on the order summary page.
CANCELLATION POLICY: For cancellations made at least 10 days prior to the training, the webinar fee will be fully refunded. Cancellations made less than 10 days prior to the training will be subject to a $25 administrative fee. 
Please note: The information provided in this hot topic webinar may not necessarily reflect the viewpoint of Reading with TLC.  
---
We Also Recommend