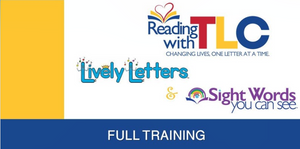 11-01-19 Lively Letters Full Training Seminar in Natick, MA
 Friday, November 1, 2019, 8:30 AM – 4:00 PM 
Location: The Verve Crowne Plaza Boston-Natick
                              1360 Worcester St 
                              Natick, MA 01760      
To stay at the Verve hotel at a discounted rate, follow these directions:       To use the link simply select the stay dates and number of guests per room and    click book. All other information should remain the same.
https://www.crowneplaza.com/redirect?path=hd&brandCode=CP&localeCode=en&regionCode=1&hotelCode=BOSNK&_PMID=99801505&GPC=TLC&cn=no&viewfullsite=true
Presented by program authors Penny Castagnozzi & Nancy Telian, MS, CCC-SLP
Please note: After purchasing this seminar, you will receive an email that contains a digital PDF you need to download ASAP. This PDF contains the necessary details for this seminar.
Purchase orders are accepted at check out and by emailing info@readingwithtlc.com, calling 781-331-7412, or faxing 781-812-2441. They can also be mailed to Reading with TLC, 775 Pleasant Street, Suite 6, Weymouth, MA 02189.
CREDITS: This training offers 6.5 cont. ed. hours for all participants, and ASHA CEUs for Speech Language Pathologists.
The seminar fee is $85, with optional choices of discounted materials upon registration.
Boost your students' literacy skills in a way that's as powerful as it is fun! 
This training is geared for those who work with general ed. students in grades PreK – 2, as well as those working with struggling students of all ages, including teens and adults and those learning English as a second language.
Lively Letters (training phonemic awareness, phonics, and speech production) and Sight Words You Can See (training phonetically irregular sight words) have been shown to quickly close achievement gaps for the development of reading and spelling.
What Participants can expect:
Practical, research-based program strategies with direct instruction

Hands-on practice

Video demonstrations and music

Ample opportunities to ask questions

A substantial handout.
Delivered in an engaging, easy-going manner with a sense of humor, this training is enjoyed by all participants and the seminar has received a 100% recommendation rating from past participants.
MATERIALS: Attendees are encouraged to purchase this training with at least the Lively Letters Basic Set at a 20% discount upon registration. This option to purchase materials with registration already includes shipping fees. Advance purchase of these core materials helps participants refer to and use materials during the webinar, as well as immediately implement the program with students the following day. Otherwise, registrants may use the boxed cards and manuals they already own during the practice sessions. The values and descriptions of the discounted bundles offered here are listed below.  Our full suite of materials are also available for review and purchase on our on line store.
ATTENDEES: If you are paying for and registering someone else or a group of attendees, please write the names and email addresses of all attendees in the notes section upon checkout or send an email to info@readingwithtlc.com
CANCELLATION POLICY: For attendee cancellations made at least 10 days prior to the training, the seminar fee will be fully refunded.
Attendee cancellations made less than 10 days prior to the training will be subject to a $25 administrative fee. 
Reading with TLC reserves the right to cancel this training. In the unlikely event of a cancellation, Reading with TLC will offer a full refund of the registration fee, but will not be responsible for any other charges incurred by the registrant due to the cancellation of this training.
Discounted Bundle Descriptions: Before 20% Discount
Lively Letters™ Basic Set $122.99 
Includes the full color Lively Letters™ Boxed 
Letter Picture Cards 4.5" x 4.5" plus the Lively 
Letters™ Instructional Manual (3rd Ed.). These 
core materials are necessary to begin 
implementing the Lively Letters™ program to 
train phonemic awareness and phonics skills.
Economy Bundle $171.99 ($196.97 Value)
Lively Letters™ Basic Set (boxed cards and manual)
Plain Letter Cards (4.5" x 4.5")
Sight Words You Can See – Personal-sized Set
#1020 Parents' Bundle $168.99 ($192.96 Value)
Lively Letters™ Boxed Cards
Lively Letters™ Parents' Guide
Plain Letter Cards (4.5" x 4.5")
Lively Letters™ Character Songs CD

Standard Bundle $279.99 ($319.99 Value)
Lively Letters™ Basic Set (boxed cards and manual)
Plain Letter Cards (4.5" x 4.5")
Let's Practice Reading with TLC Reproducible Workbook
Lively Letters™ Character Songs CD
Sight Words You Can See – Personal-sized Set
6 Lively Letters™ Mini Cards
6 Plain Letter Mini Card Sets

Lively Letters with Music & Class Bundle
$218.99 ($248.96 Value)
Lively Letters™ Basic Set
Lively Letters™ Classroom-sized Cards
Lively Letters™ Character Songs CD
6 Lively Letters™ Mini Cards

Grades 1 & 2 Class/Inclusion Bundle
$473.99 ($567.88 Value)
Lively Letters™ Basic Set (boxed cards and manual)
Plain Letter Cards (4.5" x 4.5")
Lively Letters™ Classroom-sized Cards
Plain Letter Classroom-sized Cards
Let's Practice Reading with TLC Reproducible Workbook
Lively Letters™ Character Songs CD
Lively Letters™ Reproducible Coloring Activity Book
Sight Words You Can See – Personal-sized Set
Sight Words You Can See – Classroom-sized Cards
6 Lively Letters™ Mini Cards
6 Plain Letters Mini Cards
Reading with TLC's Colorful, Multifunction Tote Bag

Kindergarten Class / Inclusion Bundle
$589.99 ($674.86 Value)
Let's Practice Reading with TLC Reproducible
Workbook
Lively Letters™ Basic Set (boxed cards and manual)
Plain Letter Cards (4.5" x 4.5")
Lively Letters™ Classroom-sized Cards
Plain Letter Classroom-sized Cards
Lively Letters™ Character Poem Book
Lively Letters™ Uppercase Book
Lively Letters™ Reproducible Coloring Activity Book
Lively Letters™ Character Songs CD
Sight Words You Can See – Personal-sized Set
Sight Words You Can See – Classroom-sized Cards
6 Lively Letters™ Mini Cards
6 Plain Letters Mini Cards
Reading with TLC's Colorful, Multifunction Tote Bag

Pre-K Economy Bundle $168.99 ($193.97 Value)
Lively Letters™ Basic Set (boxed cards and manual)
Plain Letter Cards (4.5" x 4.5")
Lively Letters™ Uppercase Book

Pre-K Standard Bundle $252.99 ($293.93 Value)
Lively Letters™ Basic Set (boxed cards and manual)
Plain Letter Cards (4.5" x 4.5")
Lively Letters™ Uppercase Book
Lively Letters™ Reproducible Coloring Activity Book
Lively Letters™ Character Songs CD
2 Lively Letters™ Mini Cards
2 Plain Letter Mini Card Sets

Pre-K Class/Inclusion Bundle $439.99
($524.89 Value)
Lively Letters™ Basic Set (boxed cards and manual)
Plain Letter Cards (4.5" x 4.5")
Lively Letters™ Classroom–sized Cards
Plain Letter Classroom-sized Cards
Lively Letters™ Character Poem Book
Lively Letters™ Uppercase Book
Lively Letters™ Reproducible Coloring Activity Book
Lively Letters™ Character Songs CD
6 Lively Letters™ Mini Cards
6 Plain Letters Mini Cards
Reading with TLC's Colorful, Multifunction Tote Bag

Lively Letters Supplemental Bundle
$210.99 ($240.94 Value)
Let's Practice Reading with TLC Reproducible Workbook
Lively Letters™ Reproducible Coloring Activity Book
Lively Letters™ Character Poem Book
Lively Letters™ Character Songs CD
6 Lively Letters™ Mini Card Sheets
6 Plain Letter Mini Card Sets

Parents' Bundle $168.99 ($192.96 Value)
Lively Letters™ Boxed Cards
Lively Letters™ Parents' Guide
Plain Letter Cards (4.5" x 4.5")
Lively Letters™ Character Songs CD
---
We Also Recommend