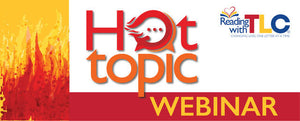 Recording of Text Level Reading: The Right Types of Books and Activities for the Right Kids Webinar
Presenter: Marianne Nice, MS, CCC-SLP
This is a per person fee
URGENT FINAL REGISTRATION STEP:  After purchasing this webinar, you will receive an email which will contain an important digital PDF that you need to download. (PLEASE CHECK YOUR SPAM FOLDER FOR ALL CORRESPONDENCE RELATED TO THIS TRAINING.)  This PDF contains the link to your recording. You will have this recording for one month. 
GROUP RATES: If you are interested in purchasing this webinar for 10 or more members of your school, district, or company, you may click on the option to pay $450 for an unlimited number of attendees to watch live or view the recording when it's convenient for you for one month.
Description:
Have you ever wondered how to effectively use connected text with your struggling readers?
There's nothing more rewarding for our students than to be able to start reading books on their own. The types of books and activities we choose at this point in their learning, however, can make all of the difference in whether or not they  progress rapidly in their literacy skills. This presentation will equip you with the confidence to choose appropriate types of texts and books for your students. Marianne will also provide you with practical activities you can pair with your connected reading tasks that will support your struggling readers.  Learn about the role of different text types from predictable to decodable, and on to authentic leveled texts. This presentation will also give you  powerful strategies you can implement right away to support your struggling readers with their phonics development, vocabulary development, and their understanding of complex syntax, as well as basic comprehension.  Additionally, participants will be provided with insight and activities to help struggling readers with some of the most common text-based errors you may see such as skipping function words, dropping morphological endings, and guessing.  This long-awaited and highly requested session should not be missed!
Presenter Bio:
Marianne Nice, MS, CCC-SLP, is a speech-language pathologist and reading specialist with 22 years of experience in K-12 education.  Marianne 
specializes in the diagnosis and treatment of dyslexia and related literacy disorders. Because of her background and experience with dyslexia, she has earned the prestigious International Dyslexia Association - Center for Effective Reading Instruction - designation of Structured Literacy Dyslexia Specialist. She regularly provides professional development and consultation to school systems both locally and nationally. She consults to school districts on multi-tiered systems of support models and the use of effective school-wide literacy interventions. She has been a speaker at several national language and literacy conventions and was recently asked by IDA to provide a national training on teaching structured literacy online.  Marianne lives in southern New Hampshire with her husband, also a teacher, and her two children ages 18 and 15.
CREDITS: This training offers 2 cont. ed. hours for all, and Certificate Maintenance Hours (CMHs) for Speech Language Pathologists. ASHA accepts CMHs towards the 30 hours needed for re-certification. 
Purchase orders are accepted at check out on the order summary page or they may be faxed to 781-812-2441, emailed to info@readingwithtlc.com, or mailed to Reading with TLC, 775 Pleasant Street, Suite 6, Weymouth, MA 02189. 
ATTENDEES: If you are paying for and registering someone else or registering a group of people, please enter the attendee names and emails in the PO section on the order summary page.
CANCELLATION POLICY: For cancellations made at least 10 days prior to the training, the webinar fee will be fully refunded. Cancellations made less than 10 days prior to the training will be subject to a $25 administrative fee. 
---
We Also Recommend