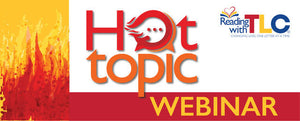 Recording of Science of Reading Strategies for Comprehension of Fiction and Non-Fiction Text Webinar
Presenter: 

Marianne Nice, MS, CCC-SLP
This is a per person fee
URGENT FINAL REGISTRATION STEP:  After purchasing this webinar, you will receive an email which will contain an important digital PDF that you need to download. (PLEASE CHECK YOUR SPAM FOLDER FOR ALL CORRESPONDENCE RELATED TO THIS TRAINING.)  This PDF contains the link to your recording. You will have this recording for one month. 
GROUP RATES: If you are interested in purchasing this webinar for 10 or more members of your school, district, or company, you may click on the option to pay $450 for an unlimited number of attendees to watch live or view the recording when it's convenient for you for one month.
Webinar Description:
In this webinar participants will learn powerful methods to improve comprehension in both fiction and nonfiction text. Strategies will be included for improvement of narrative discourse and retelling, as well as for summarizing and finding textual themes. Strategies useful for nonfiction text will also be reviewed to include ideas for building background knowledge, using reciprocal teaching techniques, and
improving content knowledge. Emphasis on cooperative learning strategies and connections to writing will also be highlighted.

Learning Outcomes:
1. Examine key differences between fiction and nonfiction text and use of data to make
determinations in targets
2. Describe the elements of an effective comprehension-based lesson plan
3. List the top seven instructional elements and techniques that produce positive outcomes in reading comprehension
4. Describe multiple strategies for improving comprehension of fiction text
5. Describe multiple strategies for improving comprehension of non-fiction text
6. Examine resources to scaffold writing about fiction and non-fiction text

About the Presenter:
Marianne Nice, MS, CCC-SLP, is a licensed speech-language pathologist, certified reading specialist and IDA certified dyslexia specialist with 25 years experience in K-12 education. Marianne specializes in the diagnosis and treatment of dyslexia and related literacy disorders. She consults to school districts on multi-tiered systems of support models and the use of effective school-wide literacy interventions. She has been a featured speaker at several, national language and literacy conventions to include ASHA and IDA. Marianne is also providing professional development internationally, working with an organization in Istanbul, Turkey to train teachers in the middle east in the science of reading and dyslexia. Marianne lives southern New Hampshire with her husband, also a teacher, and her two children ages 19 and 16.
CREDITS:
 Whether you watch live or view the recording, this training offers 2 cont. ed. hours for all, and Certificate Maintenance Hours (CMHs) for Speech Language Pathologists. ASHA accepts CMHs towards the 30 hours needed for re-certification. 
Purchase orders
 are accepted at check out on the order summary page or they may be faxed to 781-812-2441, emailed to info@readingwithtlc.com, or mailed to Reading with TLC, 775 Pleasant Street, Suite 6, Weymouth, MA 02189. 
ATTENDEES: If you are paying for and registering someone else or registering a group of people, please enter the attendee names and emails in the PO section on the order summary page.
CANCELLATION POLICY: No cancellations. 
---
We Also Recommend