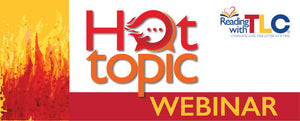 Recording of Kerry Quinney: Autism Spectrum Disorder: Effective Lively Letters Strategies for Young Children
Recording of Autism Spectrum Disorder: Effective Lively Letters Strategies for Young Children
Presented By: Kerry Quinney, Ph.D.
URGENT FINAL REGISTRATION STEP:  After purchasing this webinar, you will receive an email which will contain an important digital PDF that you need to download. (PLEASE CHECK YOUR SPAM FOLDER FOR ALL CORRESPONDENCE RELATED TO THIS TRAINING.)  This PDF contains the link to your recording. You will have this recording for one month. 
GROUP RATES: If you are interested in purchasing this webinar for 10 or more members of your school, district, or company, you may click on the option to pay $450 for an unlimited number of attendees to watch live or view the recording when it's convenient for you for one month.
Please note: After purchasing this webinar, you will receive an email which will contain an important digital PDF that you need to download. This PDF contains your final registration step that you must complete to this recorded webinar.
Purchase orders are also accepted by emailing info@readingwithtlc.com, calling 781-331-7412, or faxing 781-812-2441.

Description
Do you know how to teach early literacy skills to young students with autism spectrum disorder (ASD)? Do you know what strategies to use? If not, you are not alone! Research indicates that educators are not always clear about what strategies to use to teach students with ASD to read. The National Survey of Children's Health (2018) estimated that 1 in 40 children currently have ASD, so it is more crucial than ever to find successful literacy methods to successfully teach this population. Literacy skills are essential to meaningful participation in school and society. Developing literacy skills can encourage individuals to communicate, make connections with others, and engage in the world (Robledo, 2017). Deficits in literacy pose serious limitations to inclusion in society (Sermier Dessemontet & Francoise de Chambrier, 2015).
 Literacy skills are particularly important for children with ASD who have difficulty using speech to communicate in that literacy may function as a key method of communication with others. This training will explore Lively Letters strategies that have been used to teach preschool-aged students with ASD. This program is not just for high functioning verbal students. Nonverbal students and students who are more impacted will also benefit from this program. Research has proven that young students with autism in preschool can learn phonics and phonemic awareness skills. Lively Letters uses a multisensory approach, which has been tested and proven to be extremely beneficial for ASD students. The program is important for the reading, but also very important for the speech component. Our children need to be taught how to make the sounds since they often have significant deficits in speech.
 This training will:
Address early literacy research and ASD
Explain how Lively Letters can help students with autism read and improve speech/communication
Provide examples of how to incorporate PECS
Explain why reading is more beneficial than pictures for AAC users who are nonverbal
Address Behaviors
Show videos of students with ASD engaged in the Lively Letters program
About the Presenter: Kerry Quinney, Ph.D. is a special educator for a public elementary school in Nevada. She is also an adjunct university professor who teaches graduate-level special education courses in early childhood. Kerry is passionate about working with children with autism spectrum disorder and other developmental disabilities. She is most passionate about working with students during the crucial early childhood years. Much of what she does is geared toward educating others about the abilities of children with autism spectrum disorder. She believes that expectations for these children should be set high and that they are far more capable than many people perceive. Kerry holds a Bachelors Degree in Biology, a Masters Degree in Education/Special Education and a Ph.D. in Education/Special Education. Her Dissertation topic to earn her Ph.D. was titled, The Effects of Teaching Phonemic Awareness and Phonics to Preschool-Aged Children with Autism Spectrum Disorder. She has successfully been using the Lively Letters program with her students for more than five years and has seen significant growth each year. She has a blended family with a wonderful husband, two children, and three stepchildren. 
CREDITS: This training offers 2 cont. ed. hours for all, and Certificate Maintenance Hours (CMHs) for Speech Language Pathologists. ASHA accepts CMHs towards the 30 hours needed for re-certification. 
ATTENDEES: If you are paying for and registering someone else or registering a group of people, please enter the attendee names and emails in the "notes" section upon checkout.
CANCELLATION POLICY: For cancellations made at least 10 days prior to the training, the webinar fee will be fully refunded. Cancellations made less than 10 days prior to the training will be subject to a $25 administrative fee. Purchase orders may be faxed to 781-812-2441, emailed to info@readingwithtlc.com, or mailed to Reading with TLC, 775 Pleasant Street, Suite 6, Weymouth, MA 02189. Please be sure to include the names and email addresses of all attendees.
---
We Also Recommend