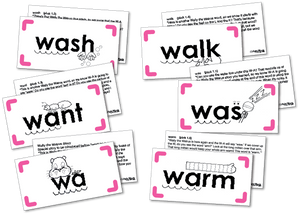 New Generation Sight Words You Can See - Class Sized Cards Only (No Manual)
#NGSICCD
Now bigger and better for you and your students, the revised New Generation Sight Words You Can See  can be purchased at $40 OFF by using code SIGHTWORDS at checkout by September 30, 2023..
Sight Words You Can See is an easy and effective way to train the most challenging high frequency words from the Dolch sight word list. Using orthographic mapping and mnemonic stories that include tricks for students to help notice and remember the irregular or infrequent spelling patterns, the program links the spelling to the pronunciation and the meaning of the words that students must master to become fluent readers. Because of the simplicity of this science-based approach, there is no training required to successfully use this program.  Students love the humorous stories and cues, and parents, educators and administrators love the quick, dramatic gains.
This item includes the cards only. These cards are perfect for training phonetically irregular high frequency words as sight words in large group and whole class settings.  This revised New Generation version includes 84 of the original sight words plus 2 bonus words, with mnemonic pictures and without the cues. They are printed on white, sturdy cardstock, with the introduction stories now printed onto the backs of the cards that have the picture cues for easier use. The picture cards are color coded for easy organization.

After cutting, each word card is 4.25" x 11" offering larger printed words and mnemonic cues. 
---
We Also Recommend