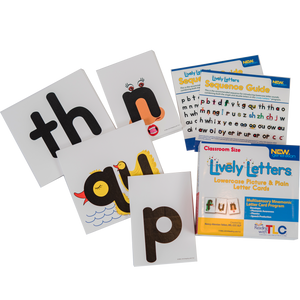 New Generation Lively Letters™ Class Size Lowercase Picture and Plain Letter Cards
#NGCLALO
These boxed cards are now 13.25" x 12.5" and they feature brighter, more engaging pictures with letters that are evenly sized and aligned for reading and spelling.  With more cultural diversity and gender equality, the new cards have all of the imagery, mouth cues, and mnemonic strategies that made the Lively Letters so popular, with even more endearing characters that make them an even bigger hit with students and teachers, alike!  With the bonus plain letter cards that are now included in each sturdy box of cards, it is even easier for educators to transition to plain letter reading and spelling activities, ensuring greater student success. Each set of cards also includes a sequence card, an easy, quick reference for teachers introducing the letter sounds. This box includes a total of 48 lowercase picture cards and 55 plain letter cards for letter sound introduction, practice, and word play activities.

These colorful, classroom-sized Lively Letter™ picture cards (on sturdy, coated card stock) are perfect for classroom or large group instruction training phonemic awareness, speech production and phonics skills.
These larger cards are ideal for use with the whole classroom and with large groups of students.
---
We Also Recommend